This page will serve as a repository of most recent information and pictures. Most of what is contained here eventually will be incorporated into future U.S. Chito-kai history pages.
---
May Black Belt Class
Black Belt Class was held on Saturday, May 7, 2022. After warm-ups, Renshi Schmidt instructed the class on taikyoku kumite waza which is a two-person partner drill utilizing sen no sen, go no sen, distancing and moves from our three taikyoku kata. The second half of class was led by Kyoshi Schmidt and focused on kata.
---
April Black Belt Class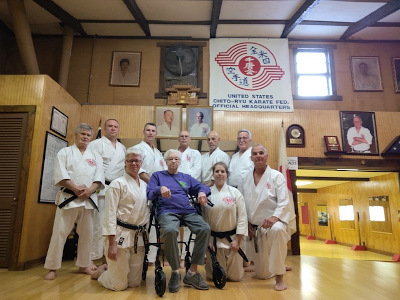 Black Belt Class was held on Saturday, April 9, 2022. After warm-ups, Renshi Schmidt worked the class through partner drills including the application of ju-ni-waza, ippon jyu kumite, te hodoki and Kake Te Ho. Kake Te Ho was taught at the hombu in the 1970's when Kato Sensei visited from Kumamoto City. He described them as a favorite of O-Sensei's. The second half of class was led by Kyoshi Kembre and focused on kata.
---
Passing Of Russell Banks, San-Dan, USCK
Russell Banks passed away on March 12, 2022 after a lengthy illness. He was a veteran of the Air Force and one of the pioneers in establishing the USCK and Honbu dojo. Russell will be greatly missed, especially by those who trained with him during the weekday morning sessions at the Honbu.
Our condolences go out to Russell's wife Beverly and the rest of his family.
---
Kangeiko 2022
by Chris Brueckner
Did you know the 40th Kangeiko was held at the hombu in 2020. Unfortunately due to COVID-19 we've been forced to cancel the event, in its traditional sense, in both 2021 and 2022. But don't worry, where there's a strong will and a strong heart, there's a way. For the second year, Kangeiko took place virtually over Zoom and though we look forward to the day when we can resume the in-person event, Zoom has had the benefit of allowing us to include and train with people from far and wide. We had 24 participants from Ohio, Kentucky, Virginia, Florida and England.
Training started at 6a on Saturday, January 29th. Renshi Eric Ford greeted a full gallery of karateka and Shihan Shawna Lingo introduced the theme for this year's training: "Kokoro". Kokoro means heart in Japanese and refers to all activities that affect the outside world through intention, emotion and intellect. After bowing in, the event kicked off with warm-ups and stretching followed by a quick review and a lot of practice in zenkutsu and kokutsu dachi. Basics, basics and more basics. As with any good USCK event, Hanshi's words echoed from the past "make them sweat".
The next section of training focused on kata with Shihan Lingo instructing the group on Chokusen (created by Hanshi), Niseishi and finally Seisan. We extended the work on Niseishi by running through bunkai for the kata followed by approximately the first third of the Henshuho's. While the group worked individually, Renshi Ford demonstrated the techniques live with a partner. The morning training finished up with instruction and practice led by Renshi Ford on the mae gerri, yoko gerri, mawashi gerri and ushiro gerri.
The training wrapped up at 9a with a welcomed cup of hot tea for the small contingent of participants that were local. Thanks to Renshi Eric Ford and Shihan Shawna Lingo for organizing and running a great event and thanks to Yoseikan Anderson for hosting.
---
Condolences
The USCK family wishes to express our sincere condolences to Shihan Terry Collis and his family on the passing of his wife Sandy on January 30th.
A memorial service will be held at the Linnemann Funeral Home, 30 Commonwealth, Erlanger, Ky on Friday, February 11th from 5-8p with a service at 6:30p.
---
The Passing of Shihan Warren Pochinski
by Barbara Dometrich, Meiyo Hanshi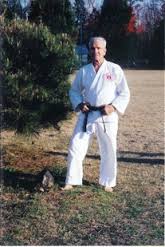 I regret to announce the passing of Shihan Warren Pochinski, known as Po, from Fayetteville, NC. He had been suffering from COPD and was recently diagnosed with untreatable stomach cancer.
I met Shihan Po in 2002 through some research performed by Renshi Don Schmidt. I learned that Po had studied martial arts throughout his illustrious Army career, was a Green Beret and retired from the Army as a Sergeant Major. I learned that Po was in Japan at Camp Chickamauga at the same time as Hanshi, but they never met until 2002. I also learned that Po trained in Chito-ryu and corresponded directly with O-Sensei. When I met Po, I had no idea that he would become a valuable asset to the USCK.
Po began attending our karate events and the next thing I know is he wanted to open a USCK dojo at Ft. Bragg to give military families the opportunity to train in Chito-ryu at no charge. Hanshi gave the okay and Po was remarkable in his quest. Po was able to quickly learn the curriculum of the USCK by studying our manuals and attending karate events. His students certainly reflected Po's teaching ability when observed by visiting sensei to Ft. Bragg. Hanshi was impressed with his teaching ability so much that he bestowed the title of Shihan on Po and promoted him to godan.
Shihan Po produced several black belts: Reggie Ward, Steven Smith, AJ Ordillas, Zach Locklear and his sister Brianna. I will always cherish meeting his wife Tu as well as all of his karate students and their family members. Shihan Po will be missed.
---
CPR Class
On Saturday, December 4, 2021, several Chito-kai members certified in CPR at the Yoseikan Honbu. Bryson Reiskamp, a student of the Honbu and an Independence, KY Fireman, was the instructor.
---
Wedding!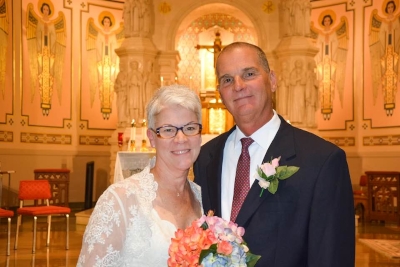 On Sunday, November 21, Kyoshi Sherry Kembre and Renshi Don Schmidt finally made it to the altar and are man and wife. It was a small gathering of family. Next year if the pandemic allows, they will have a renewal ceremony and invite our extended Karate family and friends.
---
Black Belt Classes Resume
After a 21-month hiatus due to the pandemic, black belt classes resumed at the U.S. Chito-kai hombu dojo on Saturday, November 6, 2021.
---
2021 National Event Weekend
On Saturday, October 23, many karateka attended the National seminar at the Raddison hotel. This was the first time we were able to get together in almost two years and it was nice to see everyone and catch up with those who attended. It was good to see members from New York, Virginia, West Virginia and Ohio. Kyoshi Sherry Kembre did an excellent job of scheduling the training for all involved. The feedback was very positive that not only did many get the opportunity to learn a new kata but they also got the experience of learning the Sai from Hanshi Devorah Herbst.
After the seminar, many stopped by the Honbu dojo to visit. It was a nice gathering and we are looking forward to future seminars as this pandemic goes away.
On Friday evening before the seminar, the National Test Board convened and conducted testing for several members who were promoted to the following ranks:
| Name | Rank | Dojo |
| --- | --- | --- |
| Bill Kopp | Ik-kyu | Yoseikan Honbu |
| Travis Pugh | Sho-dan | Bridgeport Yoseikan |
| John Kowalzik | Sho-dan | Crozet Yoseikan |
| David Hickenlooper | Ni-dan | Yoseikan Anderson |
| Ron Howard | Ni-dan | Yoseikan II |
| Matt Cowherd | San-dan | Yoseikan Honbu |
| Sandra Pacak | Yon-Dan | Yoseikan II |
| Alexandra Pacak | Yon-Dan | Yoseikan II |
At the conclusion of the seminar on Saturday, additional promotions and titles were awarded by Meiyo-Hanshi Barbara Dometrich:
| Name | Rank/Title | Dojo |
| --- | --- | --- |
| Lawrence Hawkins III | Renshi | Yoseikan II |
| Bill DiGrezio | Shihan | Yoseikan Honbu |
| Shawna Lingo | Godan | Yoseikan Anderson |
| Wes Ernest | Rokudan | Yoseikan Honbu |
| Don Schmidt | Shichidan | Yoseikan Honbu |
| Eric Ford | Shichidan | Yoseikan Honbu |
| John Wellbrock | Shichidan | Yoseikan Honbu |
As Meiyo-Hanshi Barbara Dometrich instructed at the end of the seminar on Saturday, let's continue to build the U.S. Chito-kai Federation with peace and love.
---
Shochugeiko 2021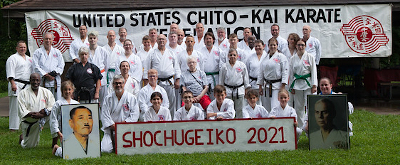 On Saturday, July 17th, 2021 the USCK was able to hold it's first national event since March 2020 due to the COVID-19 pandemic. It wasn't exactly back to normal (no partner drills & no pot-luck picnic), but it sure was great to finally get back together with our extended karate family and have a great workout.
---
Older entries can be found in the U.S. Chito-kai history pages.