---
New Beginnings
By: Mina K. Ludwig, Yoseikan Yoshisu
I don't know about you, but I'm not one to make New Year's resolutions. Of course there are different ways of looking at anything. In all honesty though, don't you think that New Year's resolutions are only meant to address one's shortcomings for the previous year? (ouch!) People call it a 'resolution' and talk about it as though plotting a detailed motivational scheme ought to be standard protocol for the New Year. Businesses make a mint off of people convincing themselves that the mere turn of the year will somehow magically give them the strength of character and inertia to finally do what they should have been doing all along. If this actually worked, it would be great. But, predictably, New Year's resolutions generally go the way of last year's forgotten fruit cake - festering and fermenting in the back of the pantry. Our lives would be less cluttered without that odd little fruit cake. Chuck the cake along with your grand resolutions. As in Karate training, we don't make significant progress by talking. We're all best served if we remember to simply shut up and train.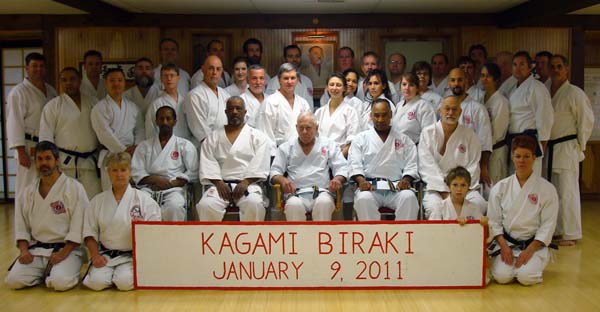 I like the DNBK's concept of Kagami Baraki. In the USCK, many are already accustomed to training on New Year's Day. It's a longstanding symbol of our standard protocol and work ethic. The concept was and is that the turn of the year simply means 'business as usual'. We begin as we intend to continue. So whether you train on New Year's Day, and/or train a week later at a joint session called Kagami Baraki, it's all the same and it's all good. Train early and often. And, if possible, train with people who motivate you and help you reach further.
On January 9, 2011 it was business as usual at the National Headquarters for the United States Chito Kai. Heading up the Midwest division of the International DNBK, Hanshi and Kyoshi Dometrich once again kindly hosted Kagami Baraki at the Hombu dojo. This was the most successful formal New Year's event thus far. Our co-founders invited several of our fellow budoka to train along with us. It was a great opportunity to exchange positive energy and enjoy camaraderie with other dedicated budoka. Apparently, by formalizing this New Year's training, we were assured that other budoka were training on the same day as well all over the world.
As always, a good time was had by all. And when I say 'all', there were a lot of bodies on that lower deck, forty seven bodies actually. I'm pretty sure that's against fire code. Furthermore, there was less than standing room only in the kitchen after class when we all enjoyed a delicious meal together prepared by Paul and Kathy Webster. Hanshi mentioned that next year we may need to use the Chito Kai kan in Cincinnati in order to accommodate all those motivated participants. Almost too many people to fit on the deck? That's definitely a good way to start 2011.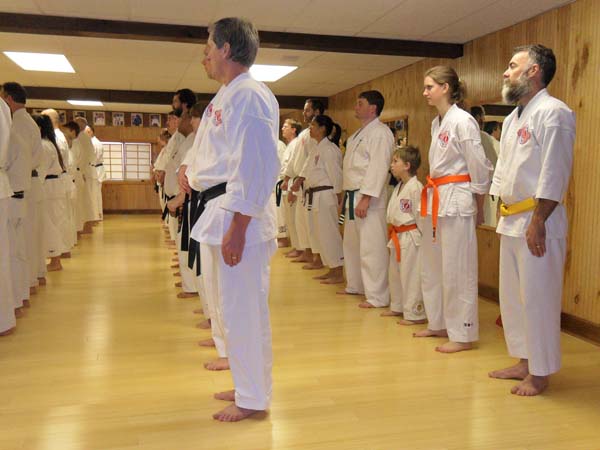 We trained under the direction of several welcome guest instructors: Devorah Herbst, Melvin Lewis, Sonny Kim and Jeff Thompson. As per usual, Dwight Holly was happy and energetic about training along with us as well. Of the forty seven participants, only a handful were kyu ranks and they really did an outstanding job. Appropriate to the occasion, we worked on 'the beginning'. Advanced concepts are basic. They seldom look very difficult. So the work we did on hip motion, tenshin (body shifting), generation of power and the like is both the beginning and the end. It's all a matter of how we move and center ourselves. Again, we see karate as a metaphor or mirror for life in general. It's not about the fruit cake, resolutions or a convoluted, wordy path forward. It's elemental and basic. It's always a beginning. Find your center and move from there.
---
Happy Birthday Hanshi Dometrich - March 2011 Seminar
By: Jamie Binkley, Yoseikan of Orlando III
The annual spring seminar to celebrate the 76th birthday of Hanshi William Dometrich was held Saturday March 12, 2011. With close to 100 participants, the event kicked off with a four hour training session in the Northern Kentucky University gym, followed by Hanshi's birthday party at the Hombu dojo.



The training began with a session taught by Kyoshi Devorah Dometrich Herbst. For those of you who are newer to the style, Sensei Dometrich Herbst started her training at the Hombu in the 1960's and is the adopted daughter of Hanshi and Okusan Dometrich. In 1966 she won the first Women's National Karate Championship held in Washington, D.C. In addition to being a Chito-Ryu Go Dan, she studies Okinawan Ti with Onaga Yoshimitsu Sensei, as well as studying and teaching the Okinawan weapons system RyuKyu Kobudo Hozon ShinKoKai. During her session, she covered concepts that are common to most Okinawan martial arts, including body shifting and timing. While showing us the basics for the tekko weapon (looks like brass knuckles with spikes), she had us work on our timing while we step and punch. She also shared the natural stance used in Okinawan Ti, which is a shorter, straighter stance than our seisan dachi. It was a treat for students to gain further perspective on Okinawan martial arts and experience another member of the Dometrich martial arts family. You can learn more about her at: www.kobudo.com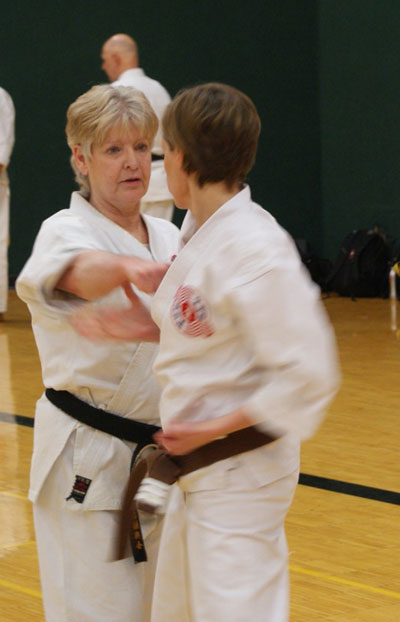 During the second session, the Chito-ryu Hen Shu Ho were covered. The Hen Shu Ho are a set of 28 self defense techniques, often applying fundamentals from our Chito-Ryu katas. Dr. Chitose wrote about these and passed them down thru his book. You can still find these on printed posters in many dojo. In addition to studying with several famous karate teachers, he studied Jujitsu and these principles are evident in his self defense moves. During most periods of the USCK's history these have been a part of our rank testing. To maximize knowledge transfer, Hanshi appointed pairs of instructors, each covering a portion of these Hen Shu Ho. Pairs were led by Shihan Mark Chisenhall, Renshi Cyna Khalily, Shihan Mina Ludwig, and Bill Jansak. Each instructor taught a subset of the Hen Shu Ho, and the instructors rotated to the next group once the students had practiced the moves being taught by that instructor. This efficient approach allowed us to get through all 28 during the seminar. The kyu ranks also had their own instruction from Shihans Eric Ford and John Wellbrock.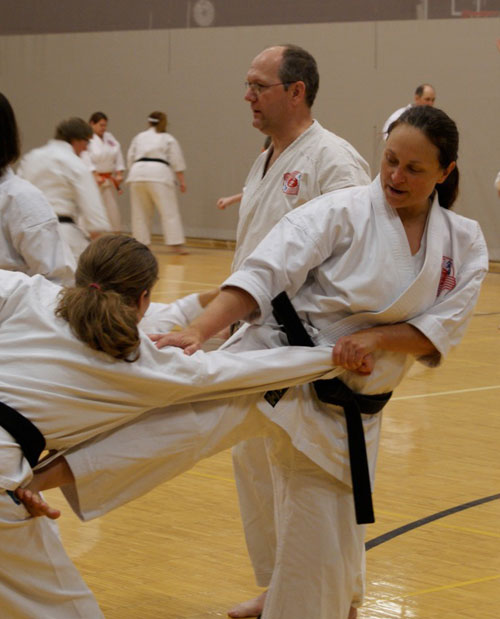 These techniques are an important part of putting our kata into practical fighting situations, and the instructors did an excellent job of sharing these with the students. Not only did they go through the technical movements, timing and finer points, but they also stepped back and talked about key concepts to take away for a given movement. Combining both gave students more insight in to the movements. For example, Renshi Khalily was teaching us # 18 and said not only is it important to drop and strike the opponents leg correctly, but if you find yourself on the ground in a fight, you are not out of options. He recommended that we think of lower body attacks. On several techniques, Shihan Chisenhall emphasized keeping the upper and lower body connected to generate power in the techniques he taught.
The energy level was very high and the time seemed to fly by. As we came back to form one group, Hanshi Dometrich paid a high compliment to the teachers, stating that he was very impressed with the caliber of the instructors. Following some announcements, we bowed out and began our trip to the Hombu for Hanshi's birthday party.

After some time, students and friends began to gather at the Hombu around 6pm. Most brought a dish to share, and of course, the house specialty spaghetti was prepared. Everyone chowed down, shared stories and enjoyed each other's company. Hanshi opened gifts from the many students and guests. It was enjoyable to see numerous retired students that still maintain a relationship with Hanshi and Okusan. It was also great to see so many young karate ka just beginning their martial arts careers. The multi-generational aspect of these gatherings reinforces the feeling of being a part of a big family. Hanshi and Okusan have dedicated their lives to building this organization and family, and it was great to celebrate with them on Hanshi's birthday.
Attending a national event is a great learning experience, a family reunion and pilgrimage all rolled into one weekend. If you have not attended one of the two large national events, please come to the October seminar and celebration of O'Sensei's birthday. You'll learn a lot and meet people who may become friends for life. Thank you to all that helped make this an outstanding event!
---
50 years of the US Chito-kai
By: Sherry Kembre
Yoseikan Hombu
The lyrics to "Yesterday" by the Beatles would be the most appropriate song to sing at this time. For example, the lyrics "Yesterday, all my troubles seemed so far away. Now I long for a place to hide away, oh I believe in yesterday" or we can insert the stanza from Barbra Striesand s song "The Way We Were", "If we had the chance to do it all again. Tell me, would we? Could we?" I think we would all say a resounding yes. We can also refer to the movie title, Back to the Future.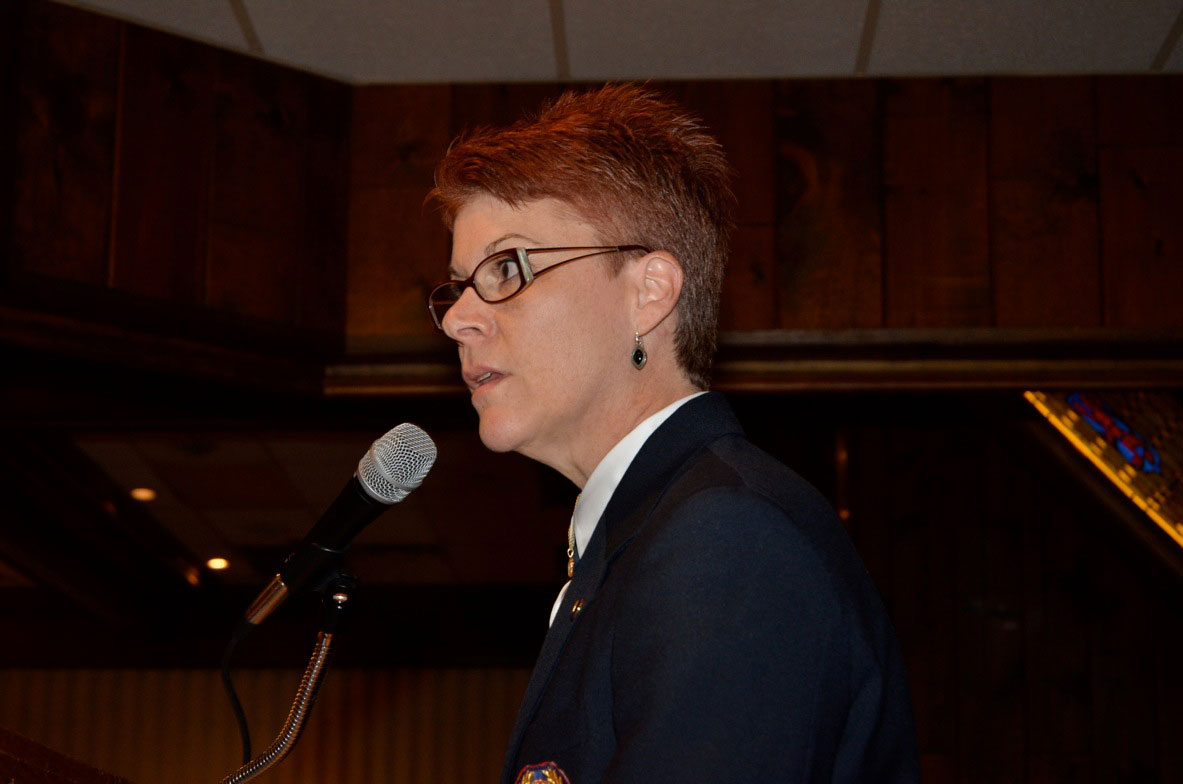 We are celebrating 50 years of Chito-ryu karate in the United States tonight and I will take us back to our future by taking you on a walk through some of the highlights from the past 5 decades.
The 1960s was a time of change and controversy. Many troops readjusting to life in the U.S. having come back from the Korean War and many young men shipping off to Vietnam. Picture the streets of Cincinnati, clean and with people heading to work early in the morning. Three young martial artists decide to go into business together. The year 1961 and the location 13th and Vine in the Over the Rhine section of Cincinnati. In a small building, William Dometrich, Harvey Eubank, and Ray Hughes began their workouts, forgetting that the average American was not in GI shape and many of their students quit within the first few months.
Later, William Dometrich with the help of his wife, Barbara, opened a dojo at a local bingo and dance hall before moving around the corner to a car repair shop at 8th and Madison in Covington. After many hours of remodeling, the dojo took shape. The downstairs housed the main deck, office and men's locker room. The second floor had another deck, women's changing area and a little, very, very little, apartment for Morita San. The highlight of this location was just across the street in a little pub called Duffy's tavern. Many important post workout meetings were conducted here.
During the 1960s many students began their training of karate for many reasons, curiosity, physical conditioning, protection and they just wanted to hit someone. So in 1961 the journey began for Hanshi and Okusan. After many years of not having seen Dr. Chitose, the time had arrived for a visit from O Sensei and his companion Mamoru Yamamoto. The year was 1967. Many discussions took place between Hanshi and O-Sensei during that visit to help set the course for all of our future. One memory I have of this visit was when Yamamoto Sensei sat on my swing set and I went up to him and told him to get off and I kicked him in the shins. I don't think he liked me too well, I was only 3.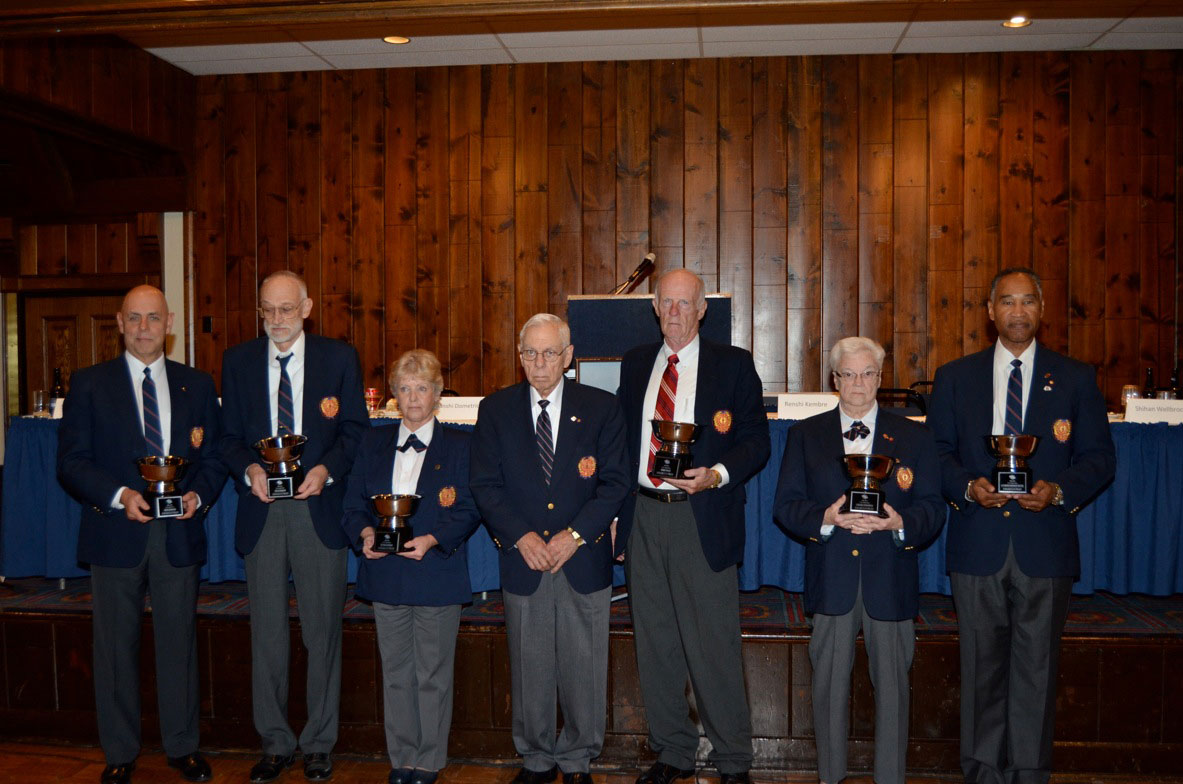 1969 we were honored to have a visiting instructor to stay with us for one year. The only problem was he did not know how to not kick students through the wall or down the stairs, therefore we lost many of our students. Once he went back to school we began the rebuilding of our student body.
The 1970s brought an excitement for martial arts with the help of the Kung Fu series and of course Bruce Lee. 1971 was a busy year with the purchase of the hombu dojo on Martin Street. There were many long hours spent, painting everything blue (the paint was on sale), cutting plywood for the deck, killing random rodents and a lot of cleaning to get the place ready for class. In November of 1971 Hanshi, Okusan and a few students made their first trip to Japan. While in Japan, Hanshi was promoted to shichi dan and Okusan to ni dan. Upon their return the very excited group began planning for O-Sensei's next visit.
In 1972, Chito-ryu karate was accepted as a credited course at both Thomas More College and Northern Kentucky University. In 1973, a tournament was held at the NKU campus and many sensei from various styles attended. In attendance were Sensei Sugiyama, Sensei Nagamine, Sensei Tsuruoka, Sensei Higashi and many more. It was a packed house because well the guest of honor was of course O Sensei and his traveling companion, Sensei Kugizaki. The tournament went late, 1 o'clock in the morning but no one cared. It was exciting to have so many great sensei in attendance and to share experiences and to create great memories. Throughout the 1970s many exciting trips were taken to Chicago, Toronto, Pittsburgh, West Virginia, New York, Florida and many other places. Visiting the Chito-kai dojos and training with our karate members was like visiting relatives.
One very exciting trip was in 1974. A tour bus was rented for our trip to Canada to support the Canadian Chito-kai. After going through the border the bus driver graciously stopped at a local liquor store. Hanshi instructed two students to go in and purchase some cases of beer. Well, while his back was turned about half the bus got off and purchased many cases. When we checked into the Lord Simco the only thing on the 6 luggage carts were the cases of beer. This was the trip that the rule of no drinking before a tournament was instituted. We had several members go home with broken noses because of their excessive partying the night before the tournament.
In 1979 we had two visitors from Japan come and help us with our understanding of what was being covered in Japan. These two men were Sensei Kuzahara and O-Sensei's son Yasuhiro. They were taken on a trip to the mountains of North Carolina to camp and to see the Cherokee Indians.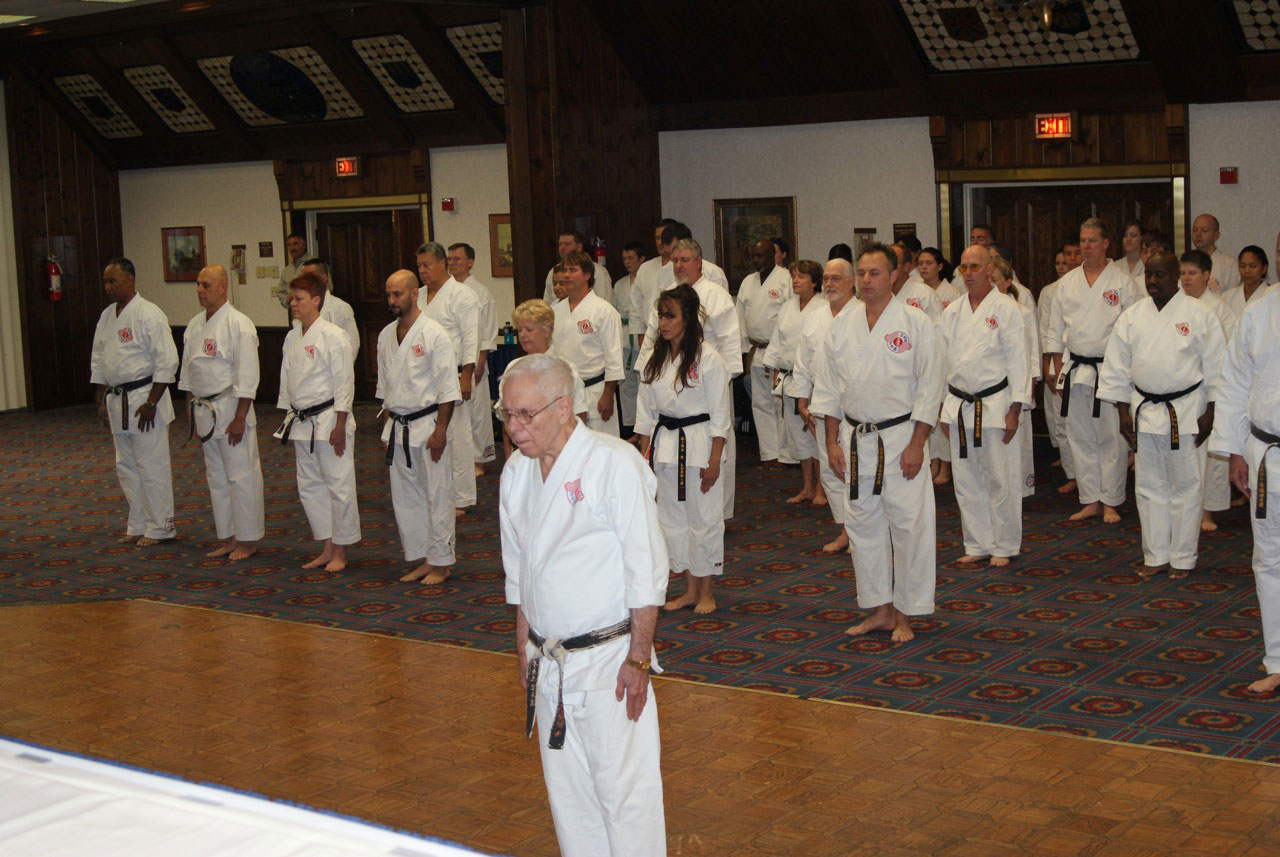 The 1980s brought many challenges and some fun experiences. To help with the local traveling to demonstrations and workouts a school bus was purchased and painted in red and white. One fun trip was to Frankfort, Kentucky for a demonstration and work out. Hanshi drove the bus and we had many members from other states on the bus. Hanshi felt bad for a hitchhiker and decided to offer him a ride. We had just gotten back onto the highway when one of our members yelled out. "Hey bus driver. You know we are due back soon." Well, another student picked up on this and stood up saying, "If we are late for our meds, we will be in trouble." Well, you can imagine the look on this man's face. He asked to get off at the next exit. That evening, on our return home trip, we ran out of gas at the Richwood Exit. While waiting our dedicated students decided they could practice what they had learned at the clinic on the highway with the help of the buses' headlights.
In 1982, once again O-Sensei visited with his son, "Waka" Sensei. While visiting Kentucky a tournament was held, yudansa testing and of course the national banquet. O-Sensei was due to travel to Canada for a tournament so many of the United States members followed him to Toronto. We just couldn't let go. While in Toronto we were able to witness the signing of O-Sensei's will. Hanshi's signature is included on this document. Many of us had an eerie feeling that this might be the last time we would see O-Sensei.
In 1983, several students traveled by car for 3 days to reach Banff National Park in Alberta, Canada. Hanshi was given the honor to head up the teaching for this week long camp. Well, the Canadians didn't know what hit them. He changed the schedule, so of course there was more training to be had. You think Kangeiko has a lot of kicks, punches, etc. Well, this was Kangeiko for 5 days from 7 in the morning until 7 at night. The local hot springs saw a lot of us around 9 each night.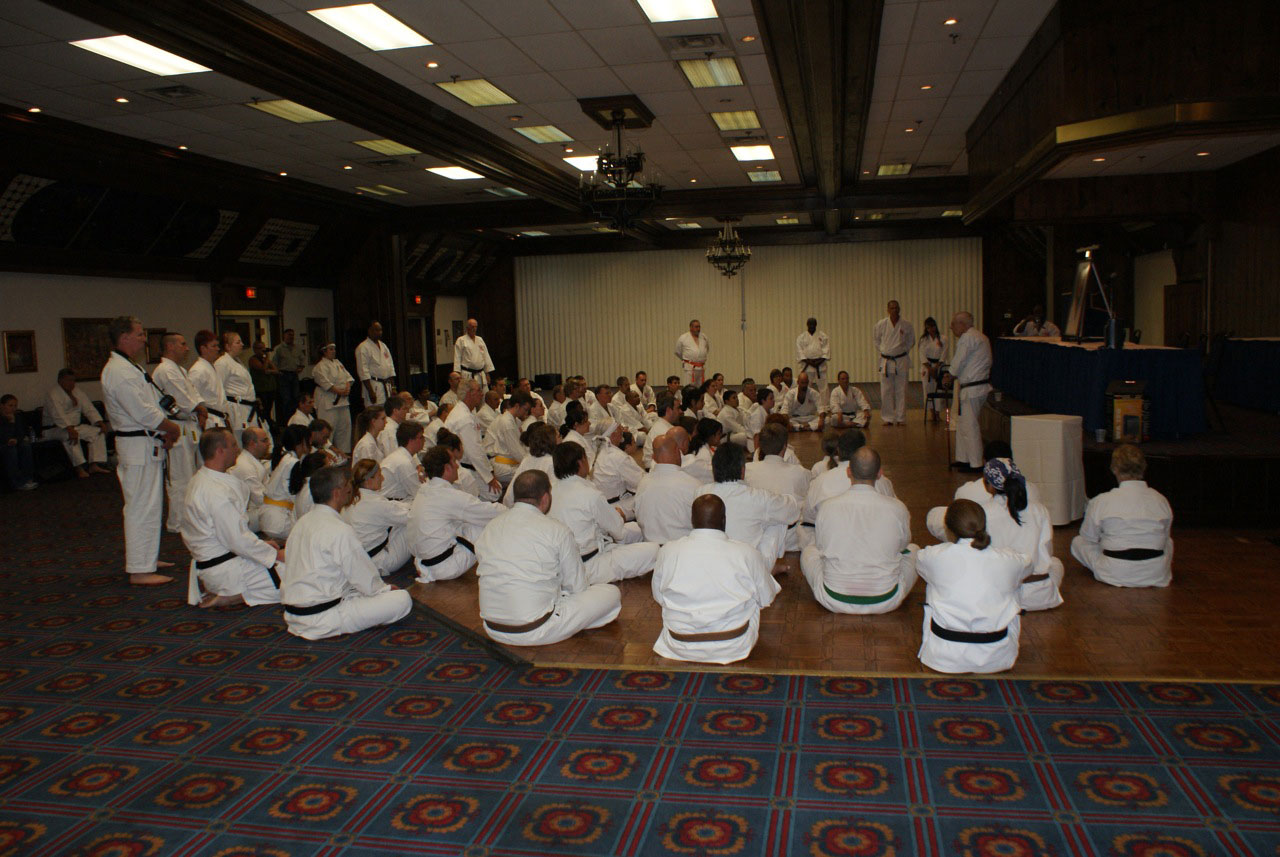 Sadly a call came from Japan in June of 1984 that O-Sensei had passed away. As you can well imagine everyone was very upset. However, Hanshi and Okusan were determined to continue O-Sensei's dream of spreading and keeping Chito-ryu karate as O-Sensei would want it to be taught going strong within the U.S. Chito-kai. 1986 and in 1991 many students traveled to Japan to compete in the Chito-ryu Cup tournament.
The challenges of the 1980s only blended into the 90s. During the 1990s the organization saw the continued growth of the number of members and schools throughout the United States. As usual there were many trips to be taken as well as many training opportunities. Camp Ernst summer camps were always fun with the usual pranks being pulled i.e horse manure on the instructors cabin steps, the midnight "surprise" training session with the glow in the dark jewelry, candy (sugar) parties, and of course the occasional casualty in the field; a garter snake.
1994 proved to be liberating for the U.S. Chito-kai. The day of independence from the Japan Hombu came after many ultimatums were given by some students that fueled the separation. To keep O-Sensei's vision alive it was decided that we must become independent; however still work with other Chito-ryu martial artists in collaboration of technique etc. After all, we are cousins, just not "kissing cousins". In 1998, Hanshi became a member of the Dai Nippon Butoku Kai and the first demonstration in front of the Hanshi board was in November of 1998 in Norfolk, Virginia.
The y2K scare did not stop the members of the U.S.Chito-kai from attending seminars and other functions in the 2000s. Many trips were made to Las Vegas, AAU nationals in Winston Salem, North Carolina and Salt Lake City, Chicago for the Windy City tournament, West Virginia for the summer camp and to Florida in the winter for a winter getaway. One memorable trip was to Hanshi and Okusan's hometown of Clarkburg, West Virginia for the dedication of the sign honoring Hanshi and the promotion of his 2001 publication of his autobiography, The Endless Quest. In 2002 and 2008 members of the DNBK flew off to Kyoto for the World Butoku Sai. Each trip was an exciting adventure especially having the opportunity to demonstrate in front of the Hanshi board, meeting dedicated martial artists from around the world and getting to spend time with our own Chito-ryu family.
I, as well as, others often refer to the members of the U.S. Chito-kai as family, well for me you are my family. We have all experienced many happy times and sad times together. Through the hardships and challenges we have all become stronger in our daily lives, friendships and dedication to Hanshi, Okusan and to O Sensei. It is my wish that we will all continue to strive for the continued success and support for the United States Chito-kai and to remember that we all need to look back to the future which is today and will continue to become our destiny.
---
Hanshi William J. Dometrich: Man of Many Titles

By: Barbara E. Dometrich, Kyoshi
Co-Founder United States Chito-kai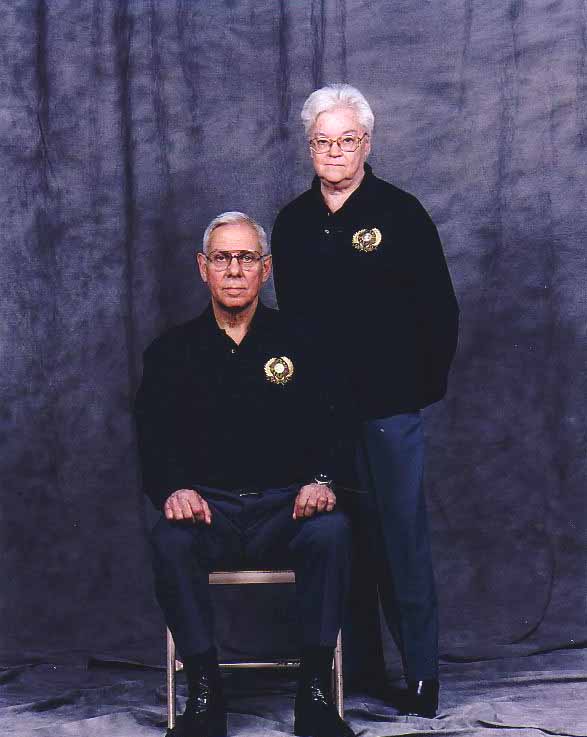 March 22, 2012 The United States Chito-kai, the Dai Nippon Butokukai, my daughters and grandchildren and I lost my husband of 56 ½ years. Many of you think you knew my husband through his martial arts endeavors, however he was a very complex man. He wore many hats and titles.
He was not only a Karate instructor; he had a career of 23 years with the Covington Kentucky Police department starting as a patrolman, then Sergeant, Lieutenant, Captain, and Lieutenant Colonel. He retired as the Assistant Chief of Police in 1986.
At the age of 17 he joined the US Army 101st Airborne and ultimately ended up in Japan where he started his life-long career in Chito-ryu karate under Dr. Tsuyoshi Chitose, the founder of Chito-ryu. In 2008 Hanshi was promoted to 9th degree Black Belt, the highest rank ever awarded by the Dai Nippon Butokukai to a Caucasian, this promotion was made in Kyoto, Japan.
In 1987 Hanshi joined the active Reserves in Louisville, Kentucky as counter intelligence E-7 sergeant with the 387 MI unit. He retired from that unit due to leg injuries from parachute jumps that were taking a toll on him. He retired from the Reserves in 1994.
In 2000 he was hired by the Boone County Sheriff's department as a deputy and worked in the family court as a bailiff for more then ten years.
In 2005 Hanshi was having some issues with loosing his balance and walking, at that time he was diagnosed with Parkinson's disease. For the past 7 years he lived with this disease. The Parkinson's became worse and the medicines didn't seem to work anymore. He retired from the Boone County Sheriff's department in September 2010 and he finally gave into the disease on March 22, 2012.
If you knew him at all, you know that he was always helping people and encouraging young people to go to school. He was a big influence for many of the police officers today that made their careers not only on the Covington Police department but also on Cincinnati Police department.
Martial arts, the military, and law enforcement were his life. If you attended his funeral it was one of the largest that many can remember, he knew everyone, people came from all over the country and Canada. It amazed some of the military personnel that a Two Star General attended and presented me with the burial flag.
Just seeing him at the dojo teaching a class or at a seminar was just a small part of his life. He will be missed by all that knew him. His legacy will live on through the people he touched, his students, his writings and publications.
We are a small biological family however we have a large Martial Arts family and we would like to thank all of you that have donated to the Parkinson's foundation and attended the Parkinson's run/walk in Cincinnati in his name. Maybe one day there will be a cure.
---
2012 Octoberfest
By: Don Schmidt
Yoseikan Hombu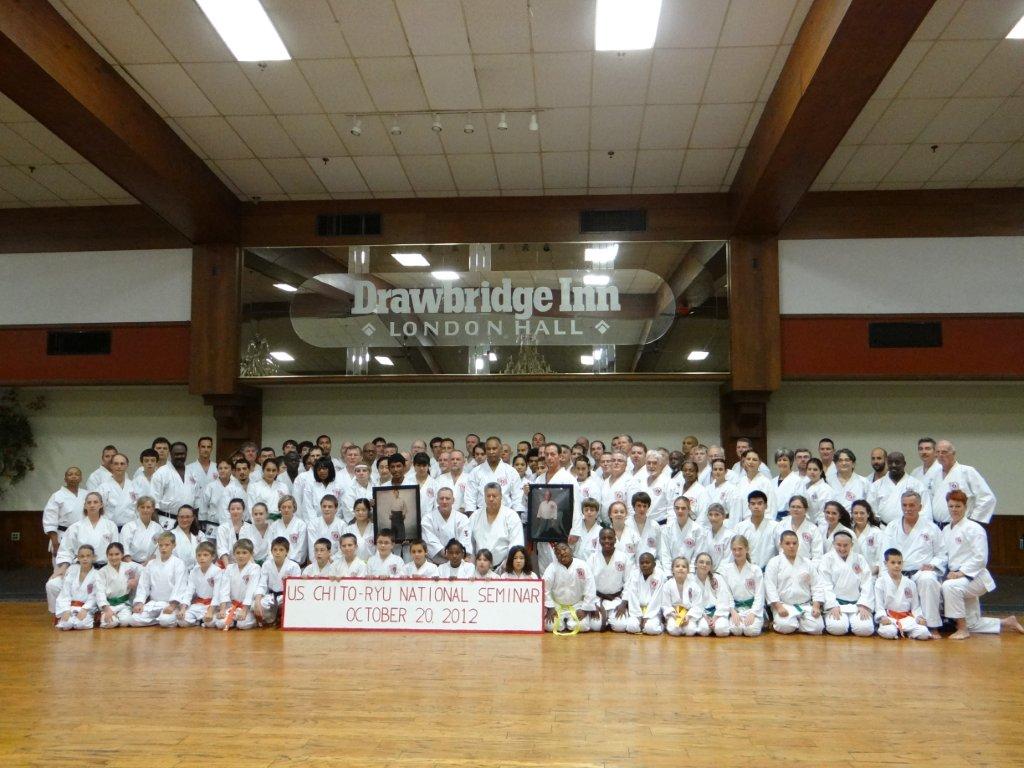 In October of every year we have our annual national test, seminar and banquet near O-sensei's birthday of October 18, in order to pay tribute to our style's founder. This celebration or festival is basically a time to get together en masse and share as a family of karateka the events we go through annually. This year, the festival occurred on October 19 and 20. I am sure that fresh in everyone's mind was the absence of Hanshi Dometrich, but I know that he would have been ecstatic to see the outpouring of support to his wife and the pursuit of the "endless quest". As his time on earth came to an end, Hanshi specifically requested that we as Chito-ryu students, especially the Shihan Kai, support his wife and the USCK. Although Hanshi is gone, his legacy will continue through our continued support of the co-founder of the USCK. In my opinion, Hanshi's legacy to martial arts was his loyalty to his teacher.
Early arrivals on Thursday attended the class at the Yoseikan hombu. We were packed and stacked in the confines of our training hall. Training was spirited and, as Hanshi would have liked, we were sweating. Some of the students who applied to test in front of the National Test Board on Friday were likely getting their feet accustomed to the training deck and environment. Good strategy!
On Friday evening the festival began even though those who tested likely did not view it as festive. The test can be grueling in more ways than one. The 2012 National Test Board consisted of Kyoshi Barbara Dometrich, Kyoshi Lawrence Hawkins, Kyoshi Sherry Kembre, Shihan Jesse Brown and Shihan John Wellbrock. Although Kyoshi Kembre had served on test boards with her father, this was the first time she was on a test board with her mother. About 16 test applicants were subjected to the scrutiny of the test board.
The seminar on Saturday included the presence of Jean Noel Blanchette Sensei from Quebec Canada and Joe Gonzalez from Chicago, Illinois. Sensei Blanchette shared a tai sabaki drill and Sensei Gonzalez shared some kumite strategy. I would like to remind everyone that Sensei Gonzalez hosts the Windy City Karate Tournament in Chicago. It is a well-organized tournament and Hanshi always encouraged USCK students to attend the tournament. Numerous friends form other styles of karate also attended our seminar which added to the success of the training. As usual, a good dose of Chito-ryu basics were included in the seminar. In honor of Hanshi, we performed his first kata ZENSHIN KOTAI and finished with Hanshi's kata CHOKUSEN.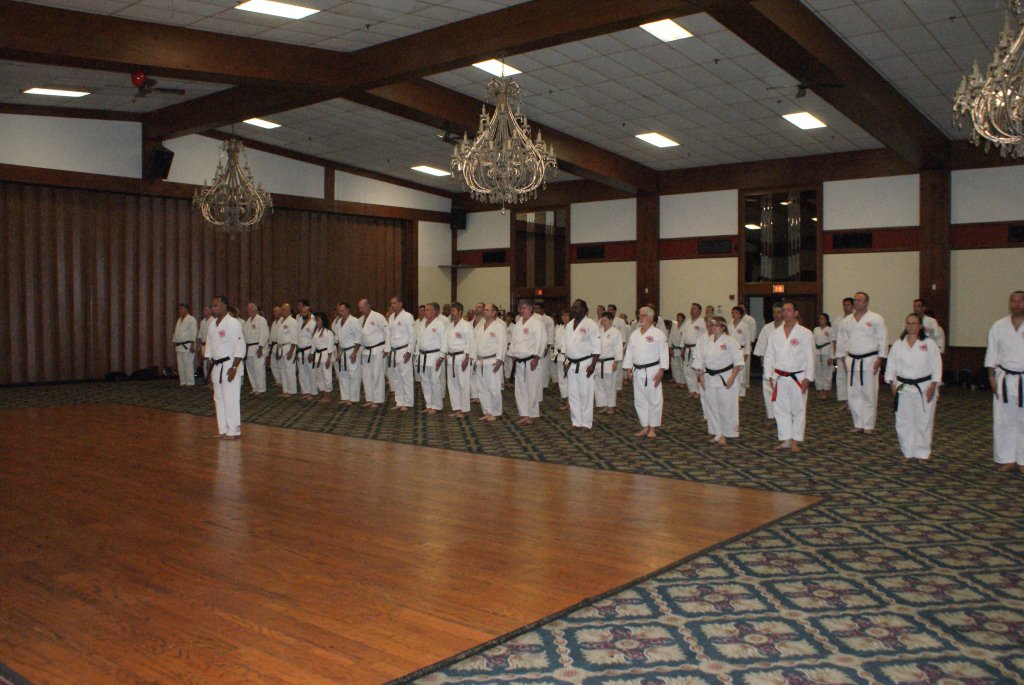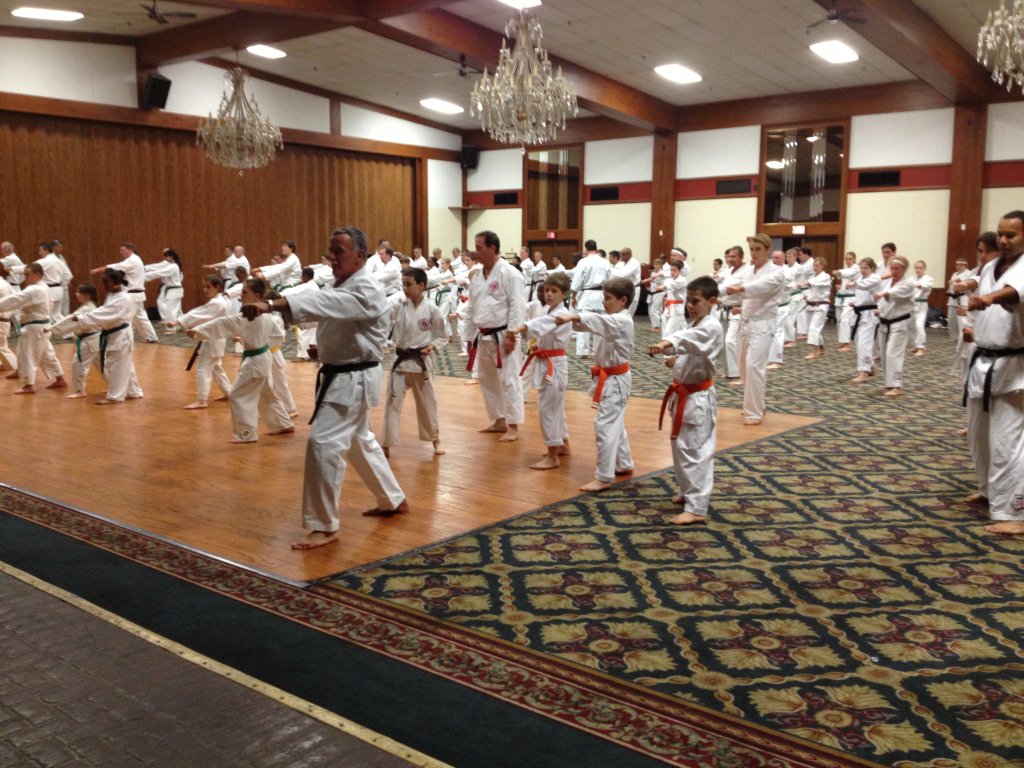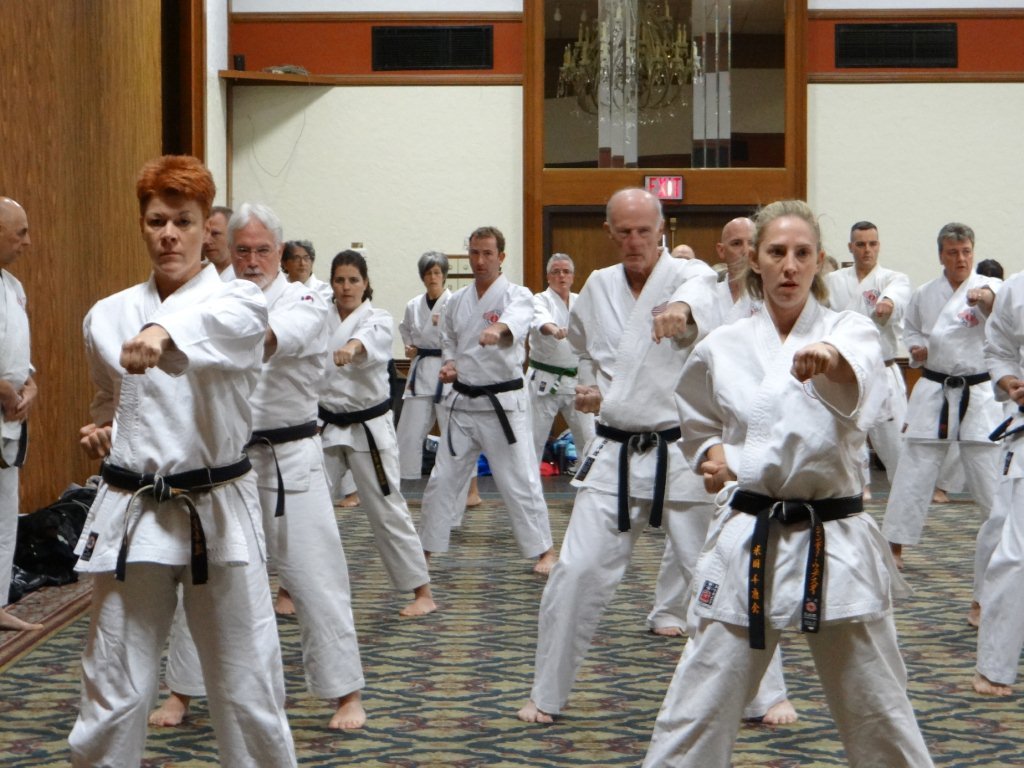 The banquet was held at the Drawbridge Inn. The festivities included pre-dinner appetizers and a delicious, sit-down, dinner. Awards and certificates were presented and the year was reviewed. This was a difficult time for Kyoshi Dometrich for the obvious reason that her husband was not there to share the moment. However, she and the planners of the event did a great job in making the event a huge success.
The March seminar to honor Hanshi's birthday and his first memorial seminar will be a success as well provided that we continue the pursuit of the endless quest.
---
Congratulations!

On December 24, 2012, Shihan Don Schmidt proposed to Kyoshi Sherry Kembre and presented her with an engagement ring.


---
Kagami Biraki at the Hombu

30 members got together on January 5, 2013 to celebrate Kagami Biraki; a rededication of one's spirit, effort and discipline toward the goals of the New Year


---
Kangeiko 2013
By: Ron Eagle
West Virginia Yoseikan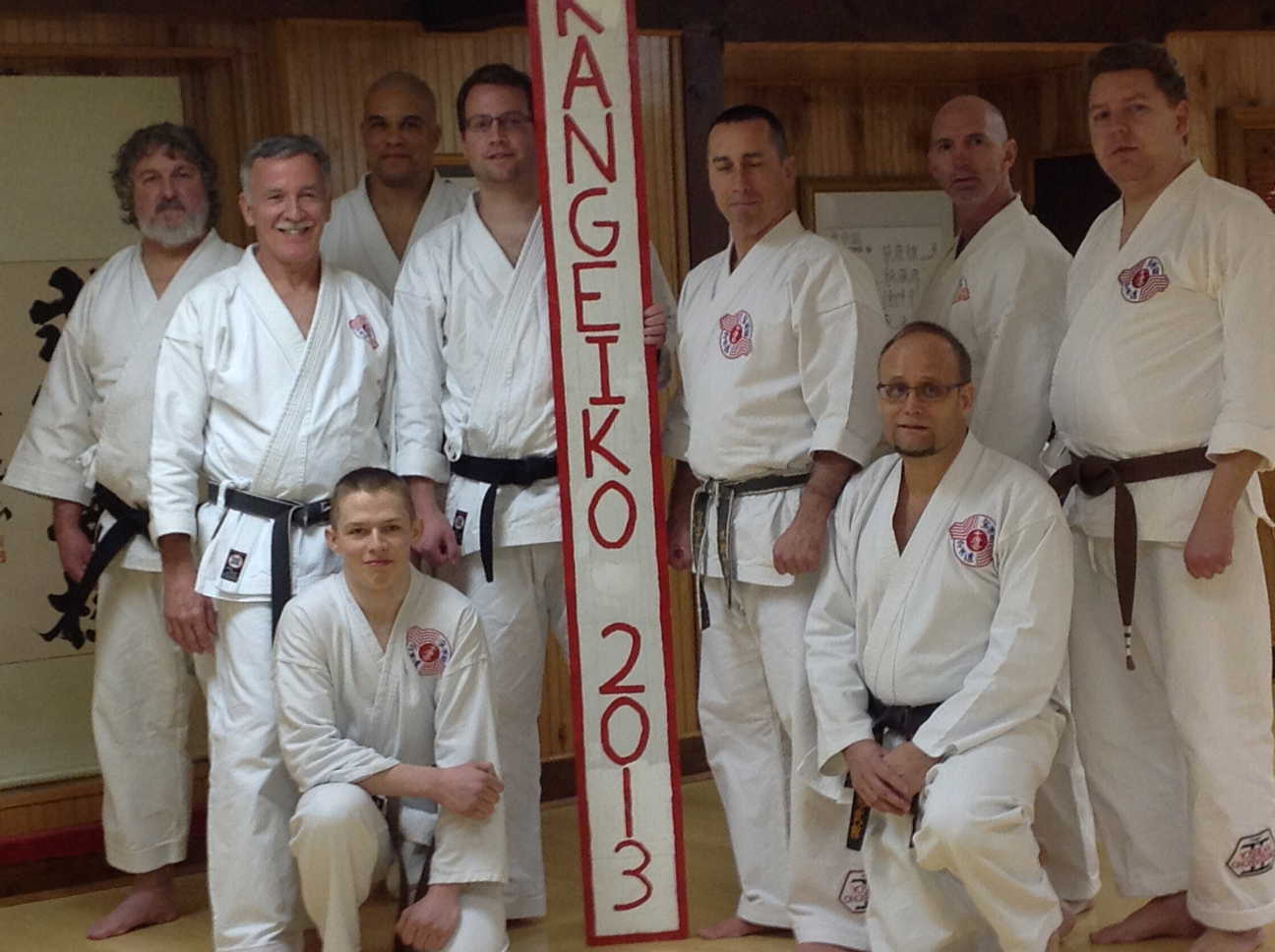 Kangeiko started off for me with the fear of the unknown, stories of the Kangeiko prior to this year, and of course the all famous "sick" bucket. I knew for me that my biggest obstacles would be my age, and my break in training between Studying Shuri-te to studying Chito-ryu. There is still so much I have to learn about the Chito-ryu system and I feared the techniques that would be covered during the Kangeiko, that I may be either very weak in or have no training in as of yet. They say fear is your biggest enemy, and there is truth to that theory
In my four years living in Okinawa, Japan while serving in the United States Air Force, I had a few opportunities to attend a Kangeiko, but was never able to attend due to duty schedule. I knew very little of the importance of the Kangeiko, and sometimes took for granted that I was lucky enough to be training on Okinawa. This was a missed opportunity for me and I was not about to let another opportunity slip through my hands. Shihan Kevin Drummond had placed the emphasis on the importance of Kangeiko and attending these events. Finally it was time to seize the opportunity and see if I was up to the challenge.
Kangeiko started with the evening prior, with everyone enjoying a spaghetti dinner. This type of family camaraderie is the one item that really intrigued me to join the Chito-kai organization and make the decision to consider training in another style. That evening really set the tone for the start of the Kangeiko training and what I was about to encounter. We were briefed by Shihan Wellbrock that night before turning in for a short night sleep.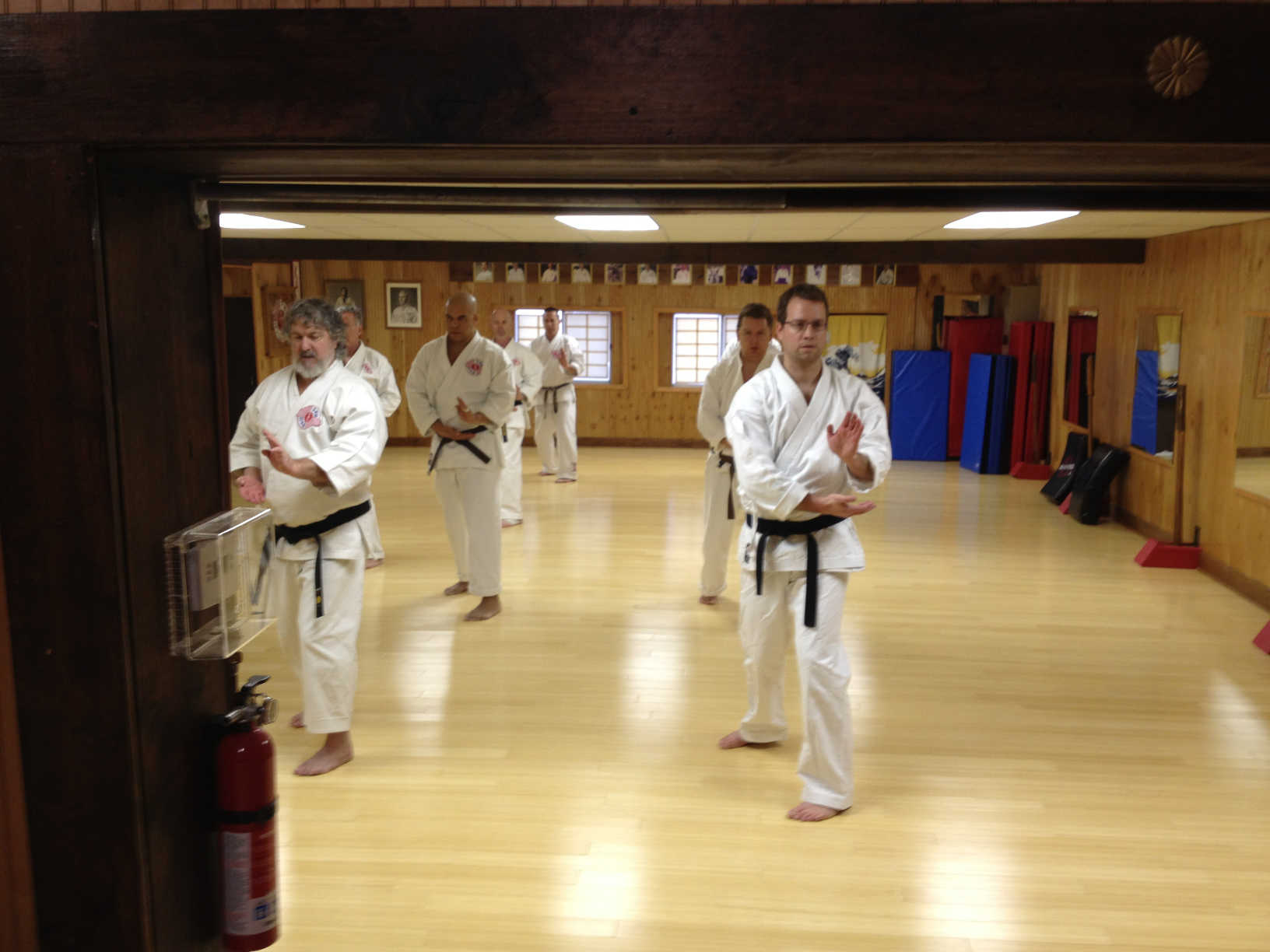 Kangeiko officially started at 3AM, and there was very little noise as everyone prepared for the next 6 hours of training. It was bitter cold as we were getting dressed, for it has been one of the coldest winters in a long time. As we assembled to start the training, it wasn't long before the temperature started to increase from the workout. The theme for the Kangeiko was "Sanchin" a very intense breathing kata. My number one fear had transpired into reality, Sanchin was a kata that I had never encountered in my Karate training, so I was learning something new. Everyone was great, as we worked the new kata the training was paced to allow those of us new to the kata to become familiar with the steps. At first, I thought to myself that as slow moving as this kata was that it would be hard to get tired in the six hour training period. Once we started to work the kata more intensely, concentrating on the breathing and adding the additional basic workouts, the anticipation for the sixth hour to be upon us grew with each exercise. I was told how the absence of clocks would play a part in the training as it was designed to test your spirit. As each break happened, we would look around trying to get an understanding of the time. My mind definitely played tricks on me as the morning progressed, at times I wanted the training to end soon and other times I was so involved in the training I wanted it to last longer. By the time the sixth hour was upon us I had no idea we had finished. I had heard stories about the smell of food and how that would be a sign that the time was near. I never experienced the smell of breakfast, so once again my mind figured we had a few more hours of training left. When we were finally finished, I felt refreshed, tired but not exhausted, almost energized from all the training. I am really glad I participated in this Year's Kangeiko and really want to take the time to thank everyone who patiently worked with me on my weaknesses. It was very clear that Hanshi's spirit was upon us in the training for it was a team effort to complete this mission.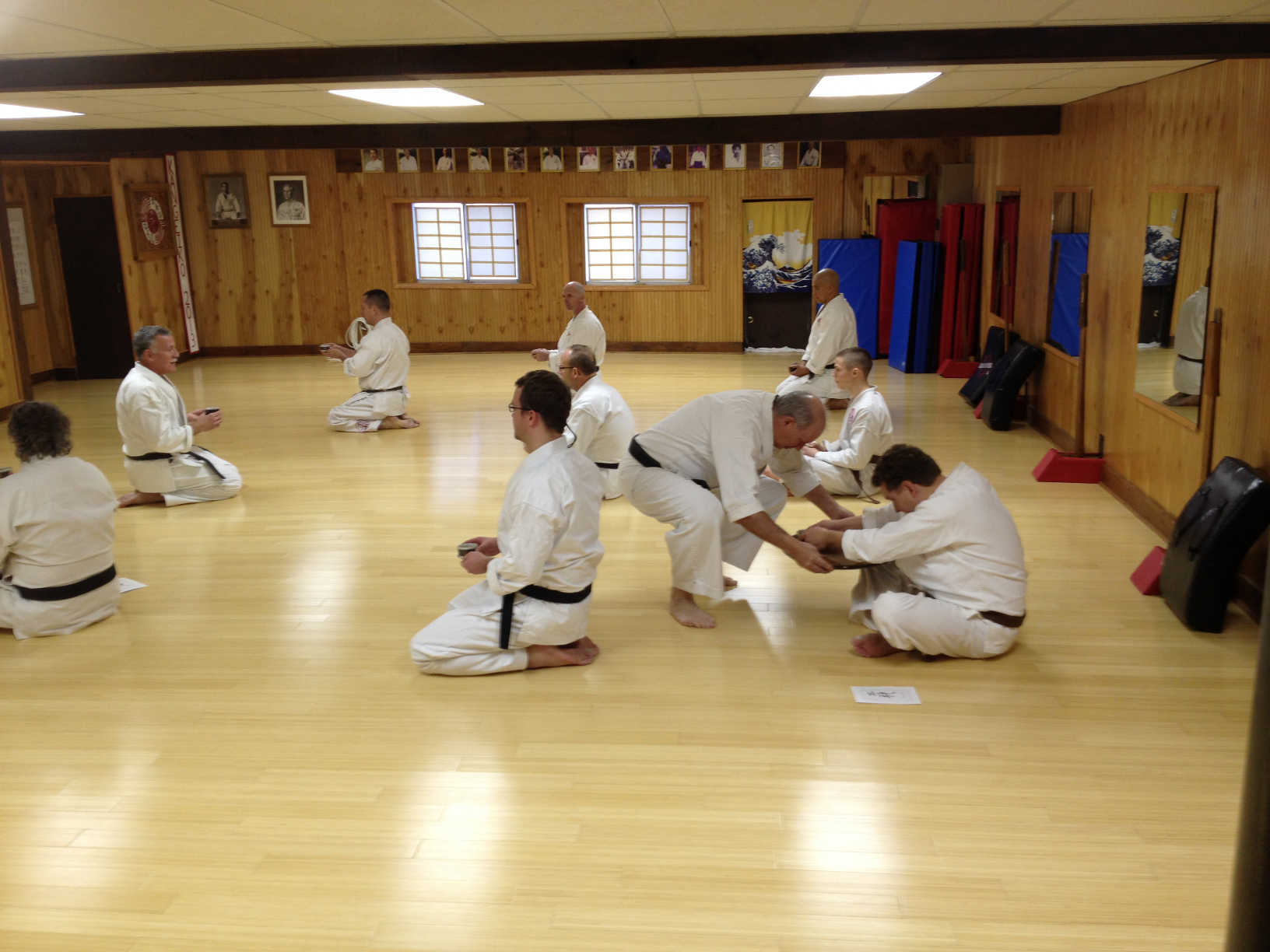 ---
Northern Kentucky University Karate Class

March 7, 2013 - The NKU PE 114 class just wrapped up...too soon according to many of the students who enjoyed the instruction provided by Shihan Terry Collis of the Hombu Dojo assisted by Sensei Shawna Lingo of Yoseikan Anderson.


---
Dojo Visits
By: Don Schmidt
Yoseikan Hombu
I recently had the opportunity to visit three dojo: On March 6, 2013, I went to Shihan Acampora's Yoseikan Orlando II dojo; on March 7, 2013, I went to Shihan Binkley's Yoseikan Orlando III dojo; and on March 8, 2013, I went to Sensei Pochinski's Yoseikan Ft. Bragg dojo. I had a good time visiting and training with fellow Chito-Ryu karateka and look forward to visiting again.
During my visits, I made some minor corrections and suggestions related to basic technique that are no different than the corrections and suggestions students at the hombu get from their instructors. Chito-Ryu basics establish the principles of Chito-Ryu and as a Shihan in the USCK, I attempt to carry out Kyoshi Dometrich's mission to ensure that Hanshi's teachings of Chito-Ryu are followed. Hanshi wrote in the green belt manual and in news letters the proper spacing of stances, the pivoting on one's heels, and the alignment of the feet in seisan dachi. Hanshi always taught that we needed to pivot on our heels when transitioning from shiko dachi to seisan dachi. He taught it no other way and he taught and wrote about how the toes of the front foot are about two inches, or 5 centimeters, or about a bo pole's width apart from the heel of the rear foot when one is in hanmei seisan dachi. (See Winter 2005 newsletter.) I recall the times when Hanshi checked stances with a bo pole. These principles continue to be taught in recent blackbelt classes.
At Orlando II dojo, Gordon Levin and I mostly focused on his next test kata and the kata that the group going to England in August may perform. Unfortunately, Shihan Acampora was working 65 miles from his home and arrived near the end of our training session.
At Orlando III, Shihan Binkley asked me to assist her in testing a few students most of which did an excellent job and were promoted. I also had the opportunity to teach the students which included reminding and correcting certain basic principles.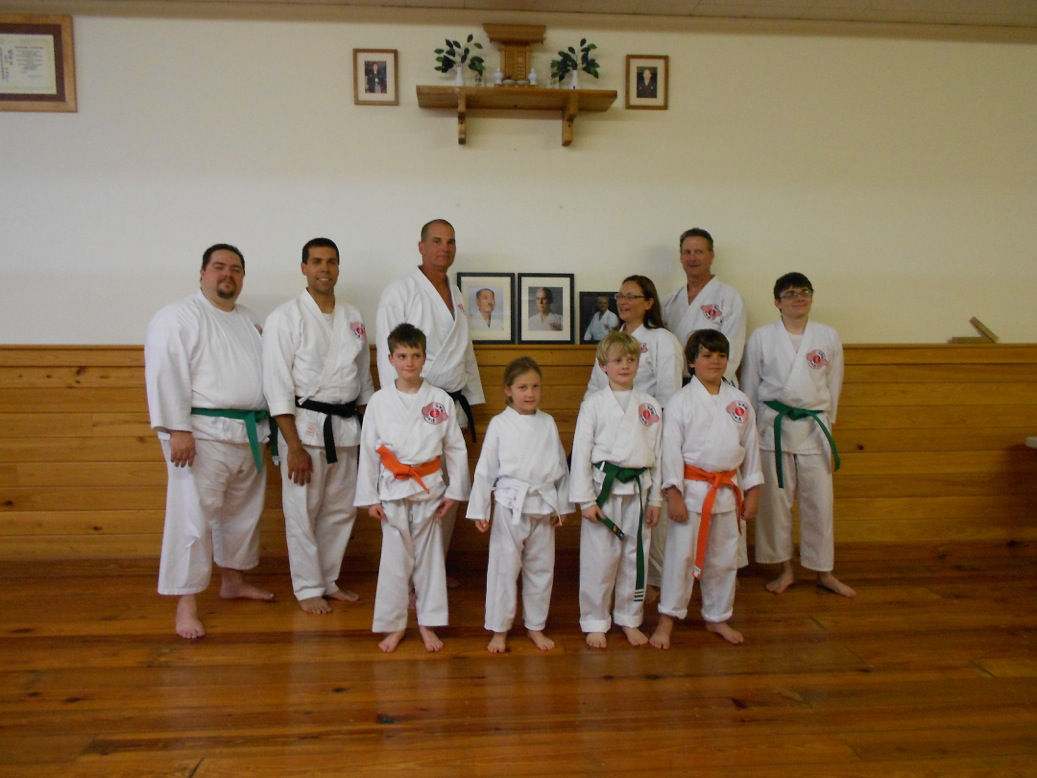 At Ft. Bragg, Sensei Pochinski requested that I review all the kata his students could perform and critique them. All looked very good, but they were also corrected on certain basic principles.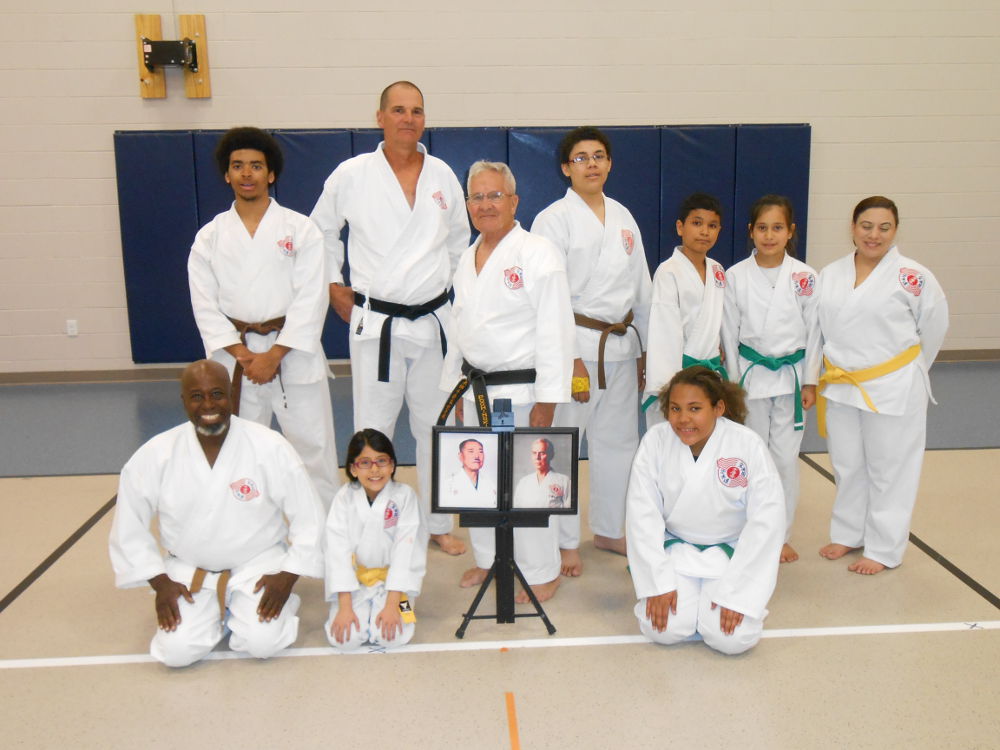 We have all heard more than I care to count, or maybe a zillion times, "stance too wide", "stance too short", "stance too long", "tight fist", "make a complete punch", "pivot on the heels", "relax", "breathe", "fix your posture", and this is only the half of it. When you hear these corrections aimed at you, do not feel bad. We all have to keep training to perfect our basics. Good Chito-Ryu basics lead to good kata performance. When you present yourself in front of a test board, you want to be able to demonstrate a good command of Chito-Ryu. Hanshi would want it this way. So does the test board.
Keep training and listening to your teachers. We train because no one is perfect. Your teachers have learned from Hanshi and we want you to be successful and get better.
---
March Black Belt Class

Black Belt class was held on March 9, 2013 at the Hombu dojo. Class consisted of Ryusan & Kusanku led by Kyoshi Hawkins and Henshuho's led by William Jansak. A meeting was held with Kyoshi Kembre, Kyoshi Hawkins and Kyoshi Dometrich (Okusan) to establish an agenda for the upcoming Hanshi Memorial seminar.


---
Hanshi Dometrich Memorial Seminar

The Hanshi Dometrich Memorial Seminar was held on Saturday, March 16, 2013 at the NKU Albright Health Center. The event was very well attended and highlighted by personal remembrances of Hanshi as well as demonstrations from the dojos in attendance.


---
DNBK Memorial Seminar
Norfolk, VA
Saturday, March 23, 2013
By: Bill DiGrezio
Yoseikan Hombu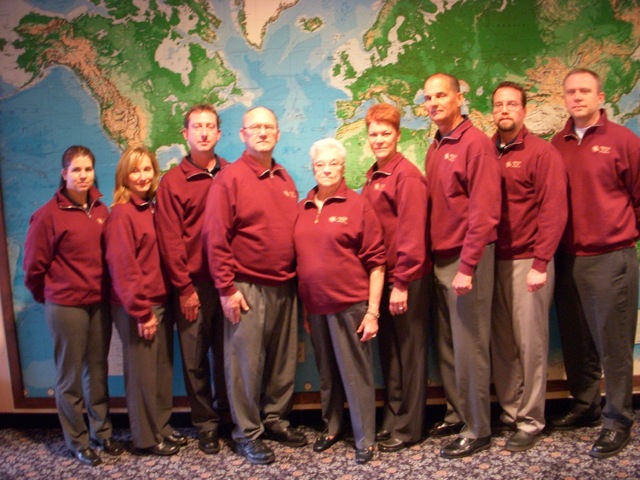 With anticipation we traveled to Norfolk, VA for the DNBK Memorial Seminar. Hanshi Dometrich, Hanshi Shimabukuro, Renshi Tobin and Shihan Pao were all honored for their commitments, achievements and dedication to budo. A flag ceremony was presented to the family members of these great individuals. Okusan, Kyoshi Kembre, and Shihan Schmidt were presented with the United States of America flag, the official plaque of Hanshi Dometrich's induction to the Martial Art Hall of Fame, and purple chrysanthemum flowers.
Not long after the flag ceremony, Kyoshi Kembre presented Sanshiru in dedication to Hanshi Dometrich. She presented before Hanshi Hamada, 300 DNBK Memorial participants and various guests. With precision and power Kyoshi's presentation reflected her father's tireless pursuit of perfection. The kata was crisp and strong.
Others also had an opportunity to present kata before Hanshi Hamada, the 300 budo practitioners and guests. Led by, Kyoshi Kembre the group included Shihan Schmidt and Ernest, Sensei Lingo, DiGrezio, Brueckner, Joe and Jennifer Benzinger. Kyoshi Holley's Shotokan team presented kata simultaneously with Kyoshi Kembre's team.
The kata finished with a bow, and Hanshi Hamada stood and addressed all who were present. He spoke of Hanshi Dometrich's dedication and reinforced the duty bestowed onto us to maintain and pursue the endless quest Hanshi tirelessly and fearlessly traveled in order to bring us to where we are today. As Hanshi Hamada finished, uproar of applause and shouts erupted. As the kata groups stood respectfully it was understood the applause was not for them, yet it was in gratitude of Hanshi Dometrich.
The Memorial Seminar concluded with individual awards and recognition. Kyoshi Barbara Dometrich received the DNBK Inspiration award and Kyoshi Kembre as well as Kyoshi Holley were presented with a DNBK Memorial Cup. Shihan Schmidt, Shihan Ernest and Sensei Lingo all received special recognition. All others present received a certificate of participation and a gracious symbol of the event.
Hanshi Hamada was deliberate to confirm the certificates and trophies were more than a reflection of personal achievement. These items were given as reminders to all of us that we are now charged with continuing the work Hanshi Dometrich and others before him initiated. It was an honor to participate.
In reflection, as we continue our quest, bestowed on us by our teacher and co-founder of the United States Chito-ki, William Dometrich, we must continue to strive for perfection through "perfect practice." Our roots are deep and our style is proven. We are responsible to teach the next generation of Chito-ki, and continue to live the "SHOWA" given to us by O'Sensei. "We who study Karate-do should never forget the spirit of the warrior's way. With peace, perseverance, and hard work, we will not fail to reach our goal." Osu!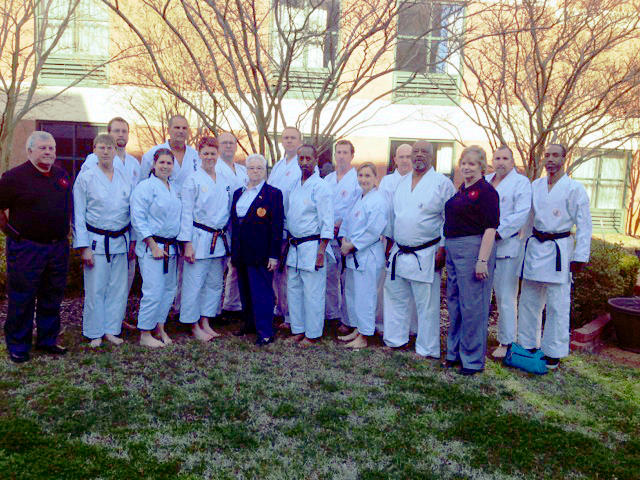 ---
A Story of Masao Morita
By: Don Schmidt
Yoseikan Hombu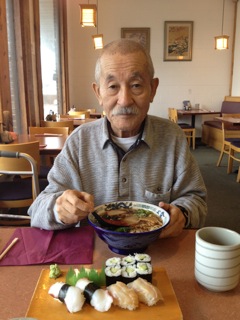 Morita San or Miyagi San? If you have seen the movie karate kid, then you know who Mr. Miyagi is. Hanshi Dometrich used to introduce Morita San as Mr. Miyagi to youngsters at the dojo to see their eyes light up. Of course, Morita San played along, kept quiet and disappeared into the dojo halls leaving the youngsters in awe. Unfortunately, Masao "Mark" Morita passed away on March 19, 2013.
Morita San was born on February 2, 1939, in the Philippines because his father worked there for a trading company. Before WWII, Morita San's family returned to Japan where they resided in Hiroshima until they moved to Kobe. Near the end of WWII, the family moved near Tokyo. I am not sure when Morita San came to the states, but about 1967 he was in the Cincinnati area and was introduced to Hanshi Dometrich. Hanshi befriended Morita San, took him under his wing and offered him an apartment above the USCK dojo located at 8th & Madison in Covington. In the years that followed, Morita San was like a brother to Mr. and Mrs. Dometrich.
Morita San made friends within the karate school because he began training in Chito-ryu. He had earned a black belt while in Japan in Shito-ryu before meeting the Dometrichs and trained in Japan under the same teacher as the late Sensei Akutagawa trained. In 1969, Morita San earned the rank of ik-kyu in Chito-ryu. In the early 1970's, Morita San shared a house, owned by the late Shihan Art Rott, with the following karateka: the late Dusty Kembre, Renshi Steve Wilhelm, Bill Law, Don Rigsby and Jessie Bailey. The house burned down; however, Hanshi came to Morita San's aid.
In 1971, Hanshi had moved his dojo to its present location at 22 Martin Street, Covington. After the fire, Morita San needed a place to stay so Hanshi offered the apartment above the dojo. Morita San gladly accepted and he has lived there since.
Like Hanshi, Morita San believed in education. He earned a Bachelor of Commerce from a college in Tokyo. In the late 1960's, Morita San earned a degree from Wilmington College in Ohio.
Morita San worked at a Japanese Language school where he met good friends like Dr. Nishiyama, Kojima San and Tanaka San. The school was initially at the University of Cincinnati until it moved to the Northern Kentucky University campus. He also worked at Lazarus' warehouse (which became Macy's), and at the first and only Japanese Restaurant in the Cincinnati area in the early 1970's known as Nikko Inn. Most recently, after retirement, Morita San began working part-time at the Kroger store on Madison. He enjoyed working there so much he became full-time and worked there until a mild stroke occurred. He very much wanted to return to Kroger, but he did not overcome his heart issues.
Hanshi Dometrich nominated Morita San to be a Kentucky Colonel. A Kentucky Colonel is an honorary award issued by the Commonwealth of Kentucky to individuals for contributions to society. He was proud to be a Kentucky Colonel as he displayed a decorative plate on the front of his automobile and he carried his membership card in his wallet.
I have a huge appetite for raw fish and other Japanese delicacies and over the years I have befriended several Japanese merchants and customers. I soon learned that it was difficult to find any local Japanese who did not know Morita San; some of whom referred to him as "Uncle Mark". All had kind remarks about "Uncle Mark".
Morita San was somewhat mysterious to some and at times complicated to figure out. Sometimes he would talk to you and sometimes he would not. At times when I was working around the outside of the dojo, some neighbors would ask if he was a master in karate and they assumed that he was a "bad ass". I would assure the person that their assumption was accurate and that they did not want to tangle with him.
Morita San had a sense of humor. I recall times when we were talking on the street while he was smoking when an inebriated passerby would stop to talk. Morita would immediately tell the person that I was a police officer so that the person would keep moving along. I am not a police officer, but it worked and we laughed about it.
Living at his dojo apartment, Morita San kept busy gardening. He had a small area where he tended to a Japanese root plant and a neighbor allowed him to use a larger area where he grew eggplant and tomatoes. He enjoyed giving eggplant to his Japanese friends at restaurants. Morita San may be best known around the dojo for feeding squirrels. His heart was so generous that he did not feed squirrels a staple of shelled peanuts. Rather, he fed squirrels cashews, walnuts, hazelnuts and other assortments of mixed nuts that were already shelled! Morita San would go outside and the squirrels came running from every direction. I always wanted some of the cashews, but he often hand-fed the squirrels and I did not want to get in the middle of the feeding frenzy. He always wanted to supervise my trimming of trees probably because he did not want me to remove squirrel routes. What he did like when I trimmed trees was cutting the limbs into little bitty pieces because it was good exercise for his hands. Huge limbs disappeared into a single garbage can because he took the time to cut them into little pieces.
In September 2012, Morita San had a mild stroke. Thereafter, he learned that he needed triple by-pass which occurred in October 2012. He recuperated at the Provident Pavilion where he enjoyed flirting with the medical staff. He returned to his dojo apartment in December 2012 until succumbing to heart failure on March 19. He was doing fine or as he often said "I'm okay", which is why his death was a shock to his friends. He was scheduled to have his kidneys tested on March 20, but he never made it to that appointment to learn if he had a kidney problem.
Morita San left behind many friends from his karate family, his Japanese family of friends, his Kroger family, his dear friends at Covington Chili and Tom and Jerry's Barber Shop. All will miss Morita San, including the squirrels.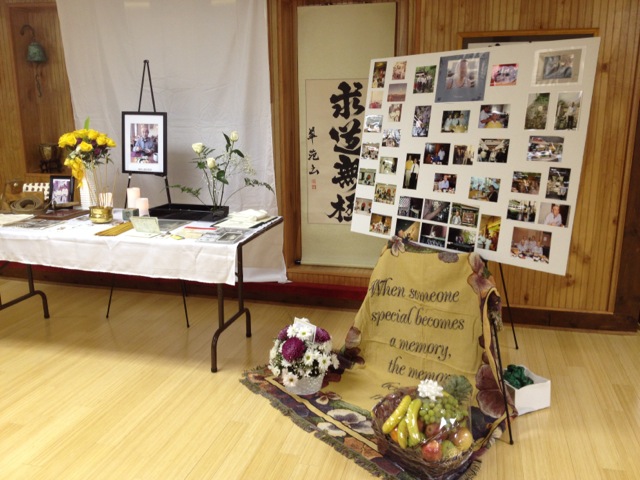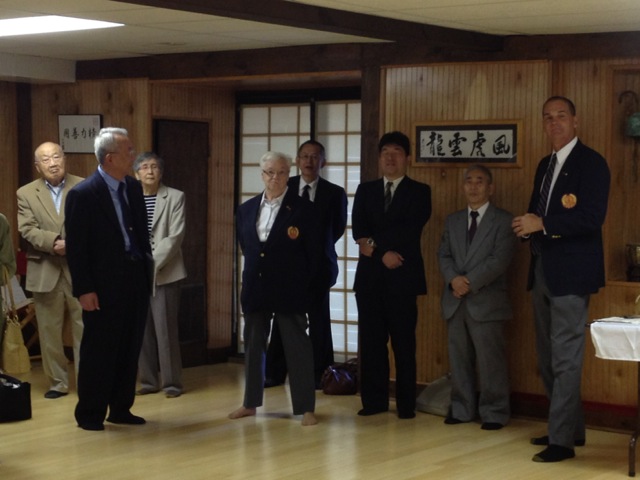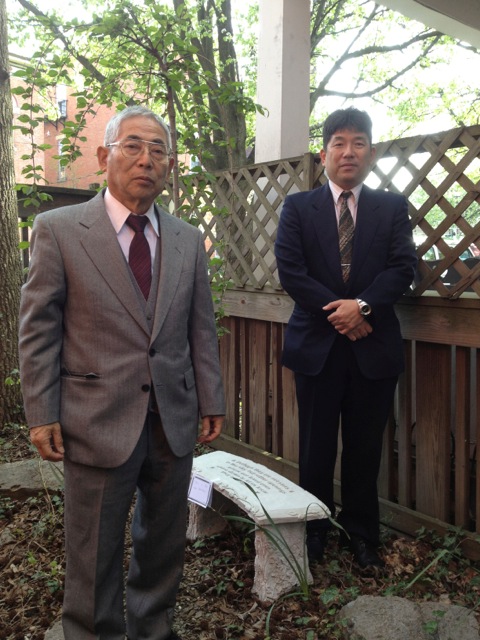 ---
Masao Morita
By: Mr. Tanaka
I was the first principle of the Japanese Language School of Greater Cincinnati. Mr. Masao Morita was one of the elementary teachers at the school. He worked hard from 1979 to 1988 for almost 10 years. Later, he became the principle at the Richmond Japanese Language School. Richmond, Indiana is located about 70 miles northwest of Covington; therefore, he drove around 90 minutes each Saturday morning. Sometimes, Morita sensei would stay there on Friday night so that he could arrive to school on time.
He loved to teach; especially the third and fourth grade classes. This is a book I received from him during that time. The front cover was labeled "Collections Of Compositions By Students In The Year 2000". In this booklet, he had written several personal comments. One reminded students to have a sincere appreciation to the trustees and the parents who supported the school. He also mentioned a third grader that he had taught who was studying at The Ohio State University at that time. This student was excelling with very high grades. Even though he had taught this student about 10 years ago, he was still thinking about his former student. Thus, Morita sensei was a dedicated and devoted teacher.
On the other hand, he also had a unique sense of humor. Sometimes we never knew if he was serious or if he was just joking. After he had passed away, I was trying to find out where he was born. At first I thought that he was born in Okinawa, but I soon realized that I was mixing him up with Mr. Miyagi acted by Pat Morita in the famous movie The Karate Kid because Morita sensei lived in this karate dojo. Finally, I learned that he was born in Cebu, Philippines.
The title of this book, which I mentioned before, is MUGEN which means in Japanese "infinity or eternity". I believe Morita sensei chose this title in the hope that his students would continue to grow INFINITELY throughout their lives.
May his soul enjoy ETERNAL life in heaven.
---
May Black Belt Class

The final Black Belt Class of the Spring was held on Saturday, May 4th, 2013 at the hombu dojo. It was good to see Terry Collis who is recovering from a shoulder operation, Michael Shaefer left knee operation , Gerald Meade right knee operation and Jerry Beshears recovering from esophagus cancer. It was great to feel the camaraderie before during and after the class. Class consisted of first hour: all kata up to Tenshin. Second hour: 1 through 15 Henshuho for the men and Kata's Kusanku and Sanshi-ryu for the women. Upcoming events include Shochugeiko in July and the West Virgina clinic in August. Black Belt classes will resume in September.


---
A great week of training at the Hombu Dojo - May 4th thru May 7th

Saturday May 4th regular class Kyoshi Kembre taught a great class of kata up to Niseishi sho/dai. Continuing on in Blackbelt class at 1 PM with all kata up to Tenshin. The men finished with the first 15 Henshuho, led by Shihan Schmidt and the women finished with Kata's Kusanku and Sanshiryu. A very nice crowd of 21 Blackbelts not counting those whom were injured that came to watch and collaborate with everyone. Sunday May 5th began at 9:30 AM with Shihan Ford and I working Ryusan, Kusanku and Sanshiryu, with Kyoshi Beshears arriving at 11:00 AM to continue on with Sanshiryu , Sanshiryu Bunkai and various Bunkai from various Kata finishing around 2 PM. At 4PM Shihan Petty arrived and we worked on Kusanku, kumite ideas and free kumite. Finishing around 6PM. Tuesday May 7th evening class began with basic punches, blocks and kicks. Last hour consisted of Taikyoku Ichi, Ni, Juniku and sanbon kumite. Shihan Wellbrock did a great job. Assisted by Shihan Ernest.

Thanks to all of those whom offered their time and great skill to make this a great week of training.

Shihan Kevin Drummond
Bridgeport Yoseikan
Bridgeport, WV


---
Steady Strides Parkinson's Walk

Our 2013 Steady Strides Parkinson's Walk-a-thon team, Punch Out Parkinson's, in honor of Hanshi Dometrich. Louise Egan and Ed Miska members of Kyoshi Richard Mark's dojo in Victoria British Columbia were present. They are members of the D.N.B.K. and became our friends while in Japan last year at the World Butoku Sai. It was great getting to share stories and walk for a great cause with members from the U.S.Chito-kai, while raising money to find a cure for Parkinson's Disease. Our team raised over $1600. Thank you to all that donated to our team. A great big shout out to our D.N.B.K. friends from England, Kyoshi Payne and his crew for donating to this cause.


---
Shochugeiko

Shochugeiko was held on at Big Bone Lick State Park on Saturday, July 20, 2013. The event was well attended by many familiar and some new faces. Several came from far and wide to attend. Afterward, a picnic was held at the park shelter. Good food, good conversation, new friendships were formed and old friendships renewed.


---
A Bone to Pick
By: Jim Sorrell
Yoseikan Hombu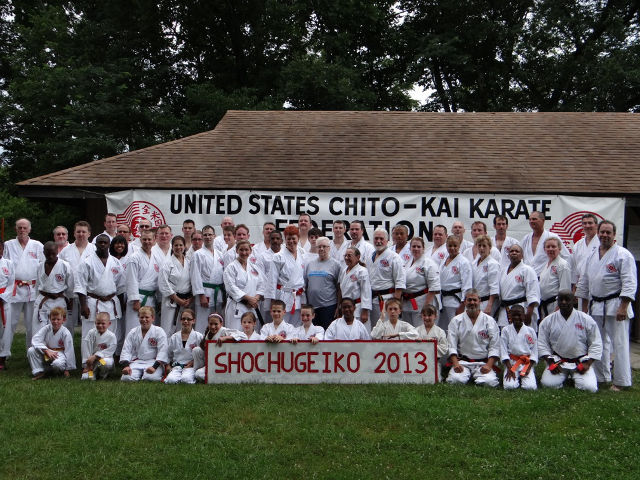 Big Bone State Park, Kentucky, was picked for the 2013 Shochugeiko, held Saturday, July 20th. I left I-75 at the Richwood Exit; one sign showed me was going in the right direction. For a long time (no GPS) I wondered if I were going in the right direction. As I needed them, signs appeared to show me: "Go left. Go right. Go straight ahead." In karate training, when you're not sure of your destination, a sensei comes alongside to tell you "Turn left. Turn right. Go straight ahead. Back up."
I found the entrance, and then got confused, until I saw the huge pavilion with the USCK banner. I registered, and then hiked up a road to the changing station, Men/Women restroom. I hiked back and entered formal bow-in. A gust of wind toppled and broke the glass on O'Sensei's portrait. An eerie beginning.
Kyu students went through basic drills and dan students went through kata drills. Dan students went into bo kata and kyu students went into Niseishi Kaisetz. Then the grade school students joined the activities. My favorite was the self-defense moves, which I showed to my daughter.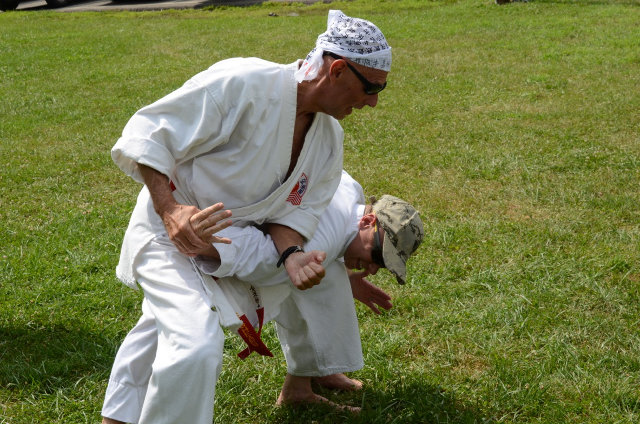 I met students from other dojo. I saw a white belt's first class in USCK was this summer training. I also saw my dojo mates. I met a yudansha instructor by choking her. She repaid the favor. Only in Chito-ryu!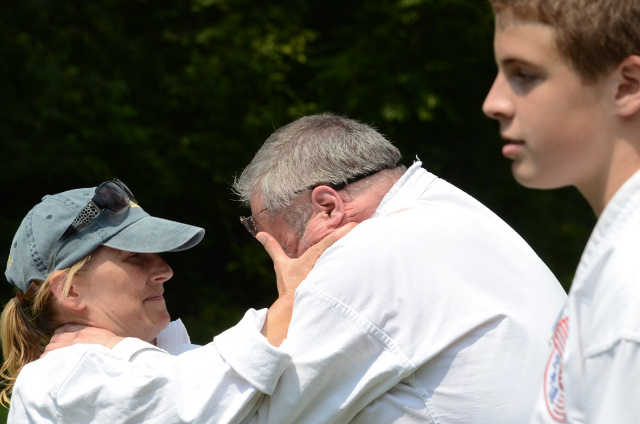 I had to drop out due to foot pain. A subsequent visit to a podiatrist gave me information, and stretches and conditioning I can incorporate into my karate stretching regiment.
Class went on with bo kata, self-defense, kaisetz, and kata. In Batman Begins, the defender went through a shifting double line of attackers. The USCK version of this "gauntlet" stretched a long way and gave everyone a chance to be an attacker and a defender. The time ended in Chokusen kata to honor Hanshi Dometrich.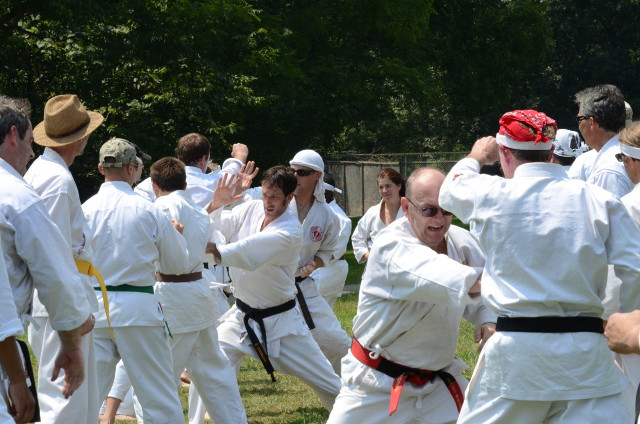 Hanshi's mojo held and the rain stayed away for the ending meal. The food was varied and tasty and water quenched thirst. It was interesting to note when kids change out of gi they change back to kids who blow bubbles, swing on monkey bars, and chase each other across the grass.
I left the training with thoughts of karate-ka I met, self-training that I need and upcoming activities I plan to join. It was a unique time for me. Even the keepsake t-shirt designed to look like a football jersey was unique. I returned to I-75, and rain, at the Florence, Kentucky exchange. I wonder what Kangeiko is like?
---
Dojo Visits
By: Don Schmidt
Yoseikan Hombu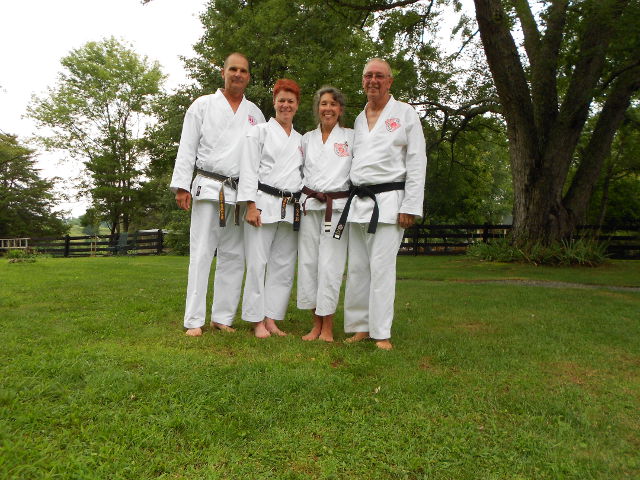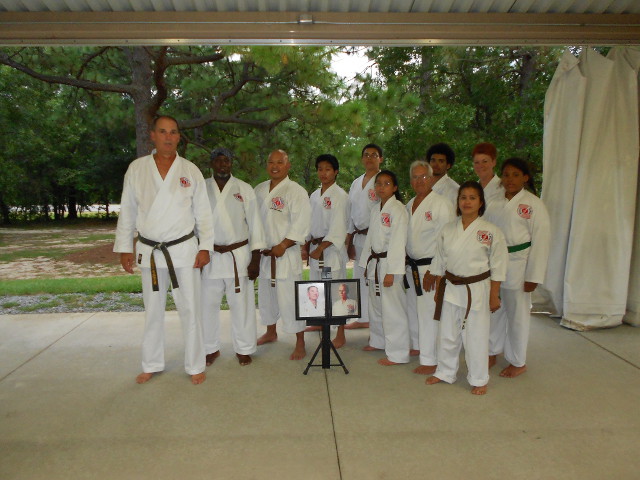 On August 10 and 11, 2013, Kyoshi Kembre and I traveled to Charlottesville, Virginia to visit and train with Jack Little and his wife Debbie. They were interested in some kata explanations so the training mostly consisted of Sakugawa No Kon Sho, Seisan, and Sochin. They have a beautiful setting behind their lovely house; mountains majestically reach the horizon and provide the background for a golf course that is nestled in the valley below. Jack is an avid golfer too, so if you play, bring your clubs should you ever get a chance to visit and train with him.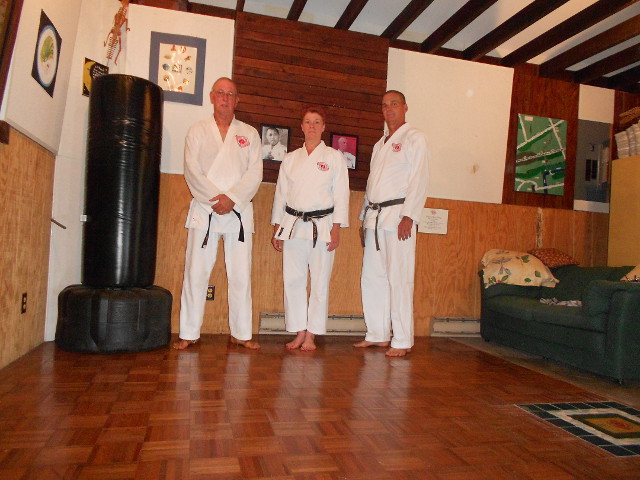 On August 12 and 13, 2013, we continued to travel to Fayetteville, NC to train with the students of Sensei Pochinski at Ft. Bragg Yoseikan. On August 12, we attended his regular class and assisted in the instruction. Ft. Bragg students were impressive as they punched and kicked through multiple drills. An extra training class was scheduled for Tuesday night for the brown belts and the 4th kyu. During Tuesday's training students were given a taste of what to expect when testing in front of the National Test Board. They were reminded of the promotional standards set by Hanshi Dometrich and how he wanted the best karate students as described in his lyrics to the Ballad of the Chito-Ryu:
Trained in combat, hand to hand
Students trained in the great Chito-ryu plan
Let me be the very best
Let me earn the Chito-ryu crest

Chito-ryu patch upon their chest
These karate students are world's best
Many join but it is true
Only the best become Chito-ryu.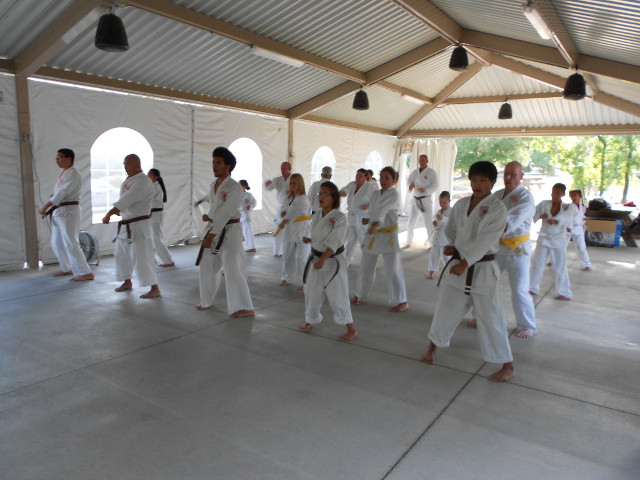 ---
Audra State Park, West Virginia 2013
By: Bill DiGrezio
Yoseikan Hombu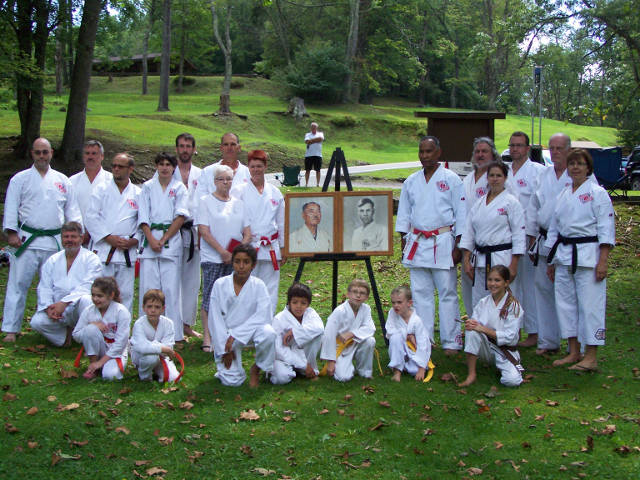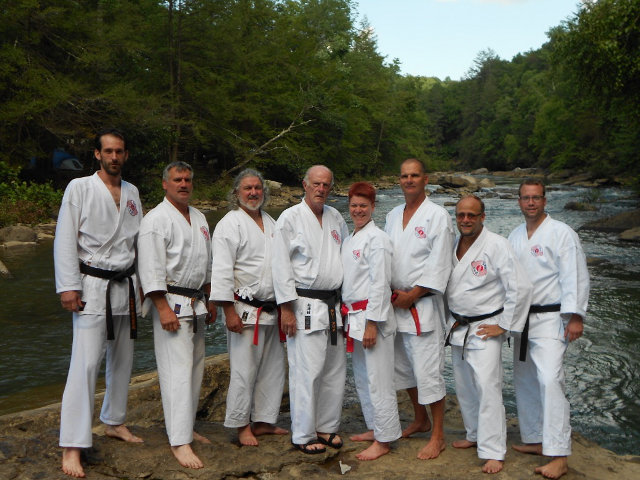 The Bridgeport Yoseikan annual training was much more than training for me; it was a first time experience. It was also a chance to get-to-know my fellow Chito-ryu karateka. I had the opportunity to ride with Sensei Collis for about 5 hours and received a karate history lesson of the training, trainees, and teachers of our recent past. The travel was soon over, and we made it to Audra. We unpacked and setup the campsite. Sensei Drummond reserved great spots at a bend in the river. The first night ended with a camp fire and stories, all the while anticipating tomorrows training.

The next morning began with a cool breeze and fresh air! Unprepared for breakfast, Sensei Drummond and Messenger offered for us to join them...now this is something you will have to experience first-hand! We enjoyed Sensei Drummond's secret recipe pancakes and the thick bacon Sensei Messenger fixed. The breakfast was ample and hardy, just right for the day's training.

It was a picturesque morning, and prior to the training we took a short hike along the river. Before long it was time to turn back and get ready for training. The sun peeked through the branches of a large maple tree at the eastern edge of the park. There was a slight breeze and the roaring of the Middle Fork River behind us. The training focused on stances, tai sabaki, self-defense, and kata. The training was thorough to say the least! I have grown to love and appreciate yet, ultimately expect topnotch training from our organizational seminars. The students of the Bridgeport Yoseikan trained well. They performed self-defense techniques with the utmost confidence and knowledge. Osu! Kata training was enjoyed by all, and the seminar concluded with Hanshi's kata Chokusen.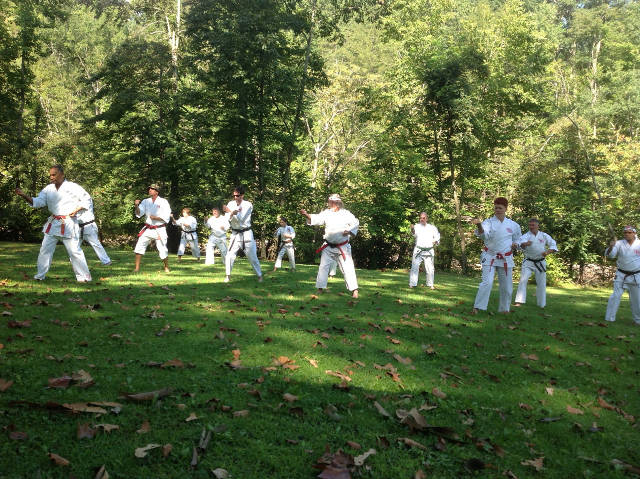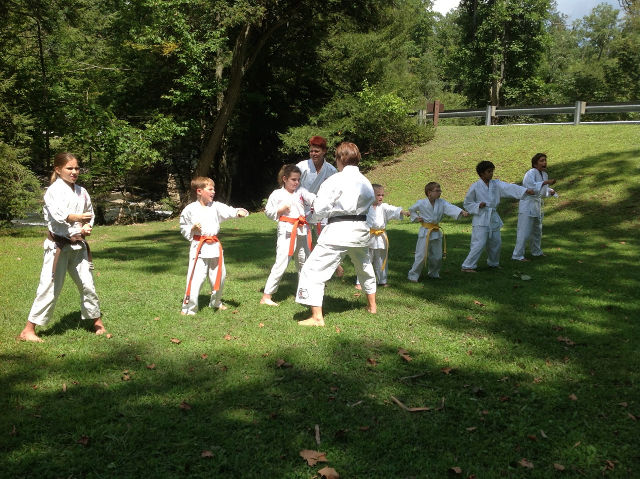 For the campers, we returned to the campground for a post training swim. This is by far the best way to cool off after 4 hours of training! That evening Sensei Drummond and Sensei Messenger hosted a fantastic barbecue. The best part of the Audra State Park karate seminar is that the seminar did not revolve around karate - it revolved around the people who train in karate. Thank you to both Sensei Drummond and Sensei Messenger for being gracious hosts. I am looking forward to next year!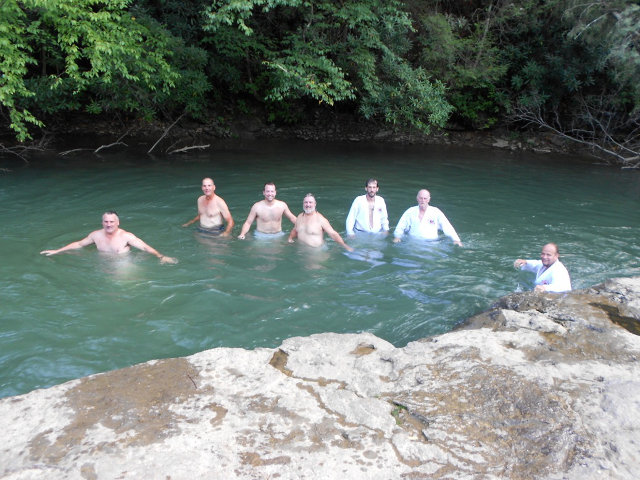 ---
September Black Belt Class

Black Belt class was held on September 7, 2013 at the Hombu dojo. It was good to see everyone after the summer break.


---
October Black Belt Class

Black Belt class was held on October 5, 2013 at the Hombu dojo. Remember, Black Belt Classes are held the first Saturday of each month for the months of September through May.


---
KUGIMIYA SENSEI
By: Don Schmidt, Renshi
Yoseikan Hombu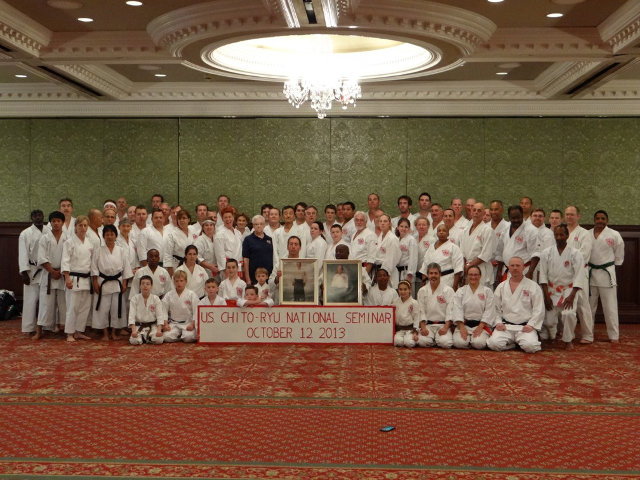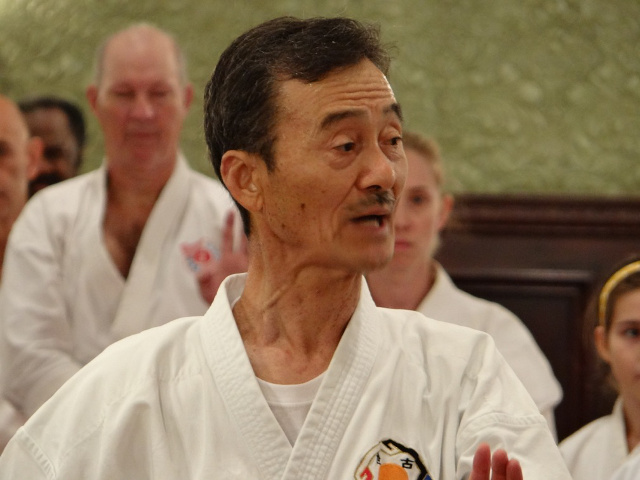 Back in 1973, as a karate student at Thomas More College, I was thrilled that the karate class was invited by Hanshi Dometrich to come to the hombu and the clinic for the opportunity to train with O-Sensei Chitose. I was an orange belt at the time and I did not want to miss this opportunity to see a 10th dan and the founder of the style of karate that I was studying. O-Sensei brought Kugizaki Sensei with him from Japan. Kugimiya Sensei, who had moved to California, came to Covington to assist his teacher, O-Sensei. That was a while ago. Bear with me as I explain the significance of Kugimiya Sensei's visit in 2013.
Okusan told me a few days after Kugimiya Sensei's visit for our National Seminar on October 12, 2013, that Kugimiya Sensei has similar traits to O-Sensei more than any other Japanese she has seen train. Okusan has a keen eye for martial arts and of course trained in Chito-Ryu for years. She trained with O-Sensei and a number of his students including Kugimiya Sensei. Her knowledge of Chito-Ryu and other martial arts should not be under estimated.
Most of those who attended the 2013 national seminar never had the opportunity to be taught by O-Sensei. However, if you were in attendance, you were subjected to a treat even if because of your rank you had no clue what Kugimiya Sensei was teaching. Kugimiya Sensei was taught by O-Sensei and as Okusan claimed that he, being Japanese, has the most resemblance to O-Sensei. Therefore, the 2013 national seminar may have brought you about as close to training with O-Sensei as you can get. While watching Kugimiya Sensei, I could not help reflecting on my memory of training in the presence of O-Sensei in 1973.
Kugimiya Sensei is 66 years of age. In 1971-1972, he visited the hombu as a guest of Hanshi and Okusan. He lived with them for a while and later moved into the dojo apartment. He taught many classes during that time. He reflected back on those years and what he did and had many questions about who's who now. One important reason for his coming was that he wanted to visit Hanshi's grave site which he did on Sunday.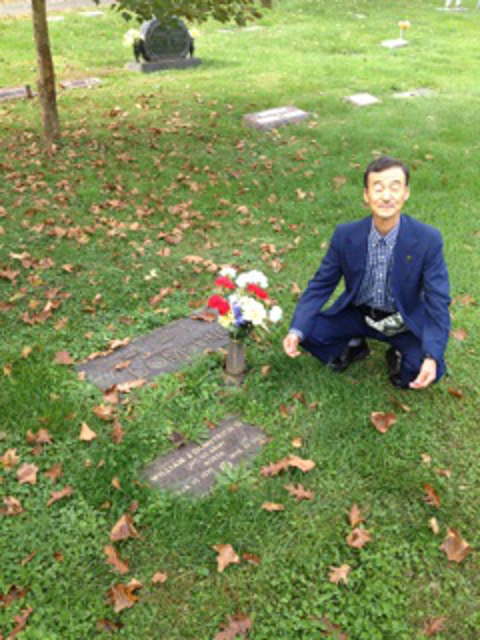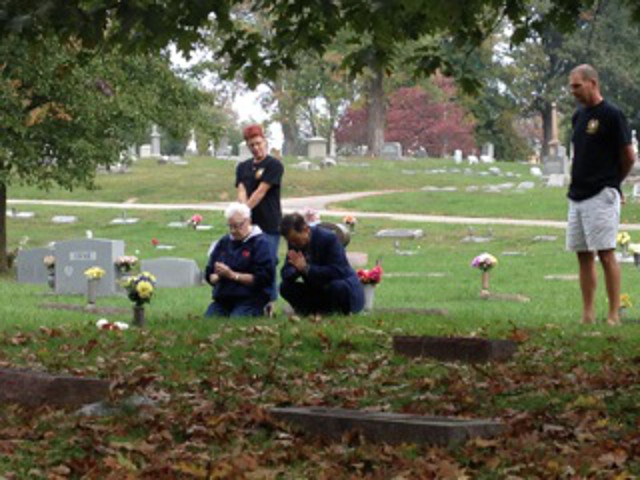 The seminar training began with Kyoshi Kembre running drills emphasizing Chito-Ryu basics. We did a amount of kicking drills and Kyoshi Kembre emphasized the importance of the front kick to be directed at the level of the belt knot, the importance of extending the foot so that the ball of foot reaches the target first and to use the hips to kick into the target. Well, some of you must not have been listening because Kugimiya Sensei was watching and felt the need to emphasize with visuals Kyoshi Kembre's instructions. He jumped up and asked Kyoshi Kembre for a minute to address the students. He promptly showed everyone what can happen if you sweep your kick, kick too high or do not extend the kick into the target. You end up on your butt!
Kugimiya Sensei taught the next training session which included the kata Seisan and Ryusan. He included bunkai applications with the kata moves. I know that some of you were lost, but it should not matter because hopefully one day you can reflect back in time perhaps when you learn the kata and remember the moment. Kugimiya Sensei also taught some taisabaki defensive moves. Maybe you were one of the lucky ones who he used as a demonstration partner.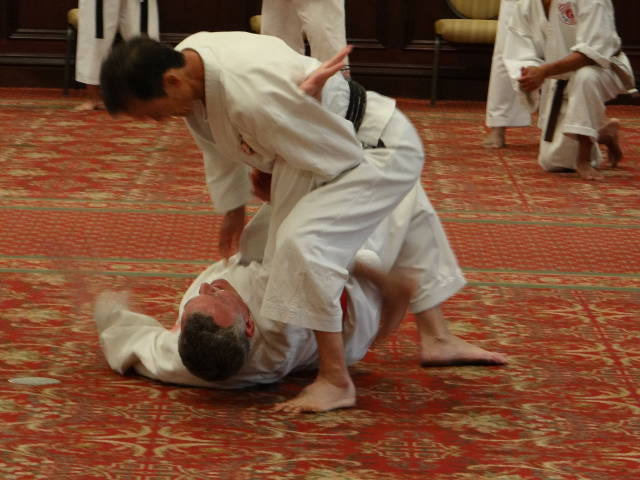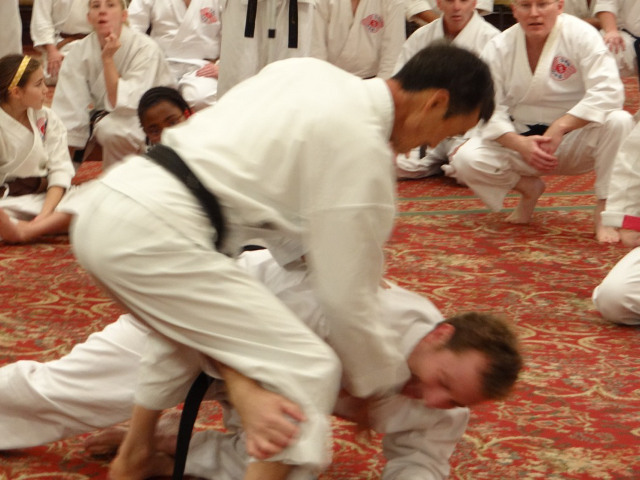 Following Kugimyia Sensei's session, the group was separated into belt-rank divisions. Kata training began in earnest. Kyoshi Hawkins taught black belts several advanced kata beginning with Chinto. Kyoshi Beshears taught green belts and brown belts their specific rank kata and Shihan Deck taught the beginner and novice karateka.
| | |
| --- | --- |
| | |
| | Shihan-kai |
During the last segment of the seminar, I taught the entire group Chokusen kata. Chokusen was created by Hanshi Dometrich in 1966 and is a kata that we regularly perform in memory of him. He was a police officer so he developed the kata to relate to a police officer involved in a confrontation in a hallway. Later, Kugimiya Sensei told me that he liked the kata Chokusen because it had good balance like Seisan. Kugimiya Sensei said that Seisan means thirteen and has been written to mean "correct balance". His meaning of balance is that the right side and left side of one's body gets equal training as opposed to balance meaning erect or steady stance.
The seminar is only one third of the national test, banquet and seminar. On Friday night, several students tested in front of the National Test Board consisting of Kyoshi Hawkins and Kyoshi Kembre, Shihan Meade, Shihan Ford and Shihan Binkley. Shihan Hawkins and Shihan Deck from Yoseikan II earned the rank of godan; Shawna Lingo from Yoseikan Anderson earned the rank of yondan; Ken Bassett, hombu, and Reggie Ward, Yoseikan Ft. Bragg, earned the rank of shodan; and AJ Ordillas from Yoseikan Ft. Bragg earned the rank of ik-kyu.
The banquet was on the 16th floor of the Radisson that provided fine food and a beautiful view of Cincinnati. It is the culmination of the entire weekend of events, or perhaps the entire year, when we relax, enjoy a little beverage, reacquaint friendships and celebrate O-Sensei's birthday. Greg Smythe from Yoseikan Rochester and Gladstone McKenzie from England (not present) were also introduced as test candidates who earned the rank of shodan. The following rank and titles were earned and issued to the following:

Don Schmidt, Rokudan/Renshi
John Wellbrock, Rokudan/Renshi
Gerald Meade, Renshi
Eric Ford, Renshi
Tony DiTerlizzi, Godan
Warren Pochinski, Shihan
Greg Morris, Shihan

Thank you for making Okusan's hard work a huge success. I enjoyed the camaraderie we shared during the entire weekend.
---
Yukinori Kugimiya
Speech October 12, 2013
U.S. Chito-ryu National Banquet
Good evening everyone! My name is Yukinori Kugimiya. I want to thank you for inviting me to this wonderful birthday celebration in Honor of Dr. Chitose, O-Sensei. I specially want to thank Okusan, Barbara Dometrich for inviting me.
Dr. Chitose was my teacher. He was born on October 18th 1898 and finished his journey in 1984.
On the year 1966 in Japan, I was 19 years old. I went to a gym to do some exercises. There I met sensei Masaru Inomoto, who was at the time a military Officer. At that time, I was a judo student. Sensei Inomoto invited me to come over to his karate class as well as being a military man. I did it! I joined his karate class and joined the military.
Sensei Inomoto introduced me to Dr. Chitose at his military karate class. I was soon taking classes 3 times per week and practicing during the weekends at his home. O-Sensei was teaching me a Chito-ryu Karate style. Its old name was Kempo Shorin ryu.
I would like to tell you about three incidents about O-Sensei, first of all, when you shake his hand it was soft as cotton. On the other hand when it comes to practicing karate his hands and arms become hard as steel. Dr. Chitose knew many ancient techniques. One of them when somebody wants to attack your groin area, he did a mysterious movement and that was sucking in the "vital part" so that he cannot get hurt. At first I was surprised but when he demonstrated this technique to us, I was truly amazed. This shows how different the ancient masters are than the modern karate teachers. Also when a student gets their finger jammed Dr. Chitose would pull out his handy bicycle tube, wrap it round the jammed finger and would pull on it until the pain goes away. These are two interesting things that I will never forget about Dr. Chitose. Another day, O-Sensei took us to buy a makiwara lumber, which is a piece of wood to practice punching and kicking with. He told us to be aware of the pattern on the makiwara board. The smoother type is stronger than the other types of makiwara. These examples show you the wisdom and experience that O-Sensei had.
In 1969 I was selected to be part of the group representing The Japanese Military at the Osaka World Expo in 1970. It is a spectacular fair that marked Japan's re-entrance into the world's mainstream economy. In this fair I met many people from different countries from all over the world. We performed in the Canadian and Mexican pavilions.
Dr. Chitose realized that this was an important opportunity and insisted the team to train hard for the expo. Then I decided to move to America in order to teach Dr Chitose's karate style, Chito-ryu.
In 1971, I flew to Los Angeles, California. I was living with my sister Masako. I started working as a Japanese Landscaper. I started to teach at a Japanese Cultural Center and at a Buddhist Temple.
In 1973, Dr. Chitose and Kugizaki Sensei came to visit me in California for a week. We went to Kentucky for the US Chito-ryu Karate Tournament the tournament was held at Northern Kentucky University. The tournament was a great success.
In 1978 after a car accident I met Buddhist yoga Minima. He showed me the wonderful world of Yoga. I studied under his teachings foe more than 15 years.
In the 1980's I met another Yoga Master Santsubagh Khaksa, He showed me a different kind of Yoga from the Phunyab in India called Kundalini Yoga. For many years I have been teaching at the Japanese Cultural Center every weekend.
Also I have been teaching Yoga at the San Bernardino Senior Center and still working in Japanese Landscaping, In October 2012, I decided to study at the Bodden Institute for Yoga to become a registered experienced Yoga Instructor. That is when I realized the important balance between Yoga and Karate.
Finally I quote Dr. Chitose, Chito-ryu Karate-do is, regarding physiology, is to make physical strength to make peace and patience, spirit through practicing Karate-do, Protect Japan and make peace of the world, this is the spirit of all sensei's in Chito-ryu karate-do.
I want to thank everyone for coming and for having me here. Happy Birthday O-Sensei.
---
November Black Belt Class

Black Belt class was held on November 2, 2013 at the Hombu dojo. Kyoshi Kembre ran a great first half of class and guided us through katas from beginner to advanced. Key points and details were discussed and practiced along the way. The second half of class was run by Renshi Schmidt and focused on reviewing the taisabake shown to us by Kugimiya Sensei during the National Seminar in October. The class finished up by practicing a few weapon disarming techniques.


---
Yasushi Yamada Visit

Sensei Yasushi Yamada of the Japan Chito-kai traveled from Tokyo, Japan over the weekend of November 2nd. It was good to visit and catch up with him as he has been a long time friend of the U.S. Chito-kai and Hanshi and Okusan's. Although Yamada Sensei's stay was brief, his primary purpose of visiting Hanshi's grave and paying his respects to Okusan were achieved to which he was very happy and thankful.