U.S. HISTORY (1970 - 1984)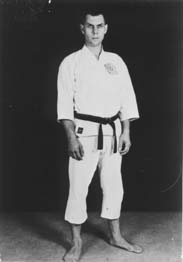 When Kawakita Sensei departed for Japan the membership of the Hombu was at a low point. Many of the students who had thought they could not do without a Japanese instructor had left the karate school because of the rough training under Kawakita Sensei. We came to understand that having a Japanese instructor was nice but wasn't always the answer to better karate or to increased membership. Dometrich Sensei was invited to Philadelphia to visit Sensei Lou Raoubin in the Summer of 1970. Sensei Raoubin had a large karate school and wanted to join the U. S. Chito-kai. His karate school became a branch dojo. After leaving Philadelphia, Dometrich Sensei made a stopover in Pittsburgh to visit Sensei Joe Hedderman who was also interested in joining the U.S. Chito-kai. His dojo also became a member of the organization. In 1970 Sensei Jim Matthews started a Chito-ryu karate branch dojo in Clarksburg, West Virginia.
During the summer of 1970 Dometrich Sensei made the decision to use the Taikyoku Shodan kata as the first basic kata for beginners. He was convinced this was the best possible basic kata for beginning karate students. A few weeks later, in Frankfort, Kentucky Dometrich Sensei and George VanHorne Sensei developed the second basic kata, Taikyoku Nidan.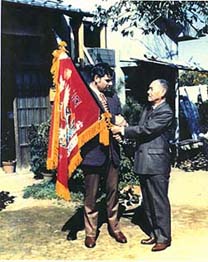 The Yoseikan was located at 813 Madison Ave. Covington, Kentucky for nine years (1962-1971) in rented property. In February 1971 a new building was found at 22 Martin St., Covington, Kentucky, seven and a half blocks from the Madison Avenue location. The building was in very poor repair: there was no electricity, no water, no gas, no sewer service and one wall of the building had not been completed. But the price was right and it was purchased. From March through July twenty-hour workdays were common as construction on the new location took place while classes were still being taught at the Madison location. Sensei Joseph Schertler (1917-1987) did most of the teaching. Sensei Dometrich was hardly ever seen at the Madison Avenue school. Most of his available time was spent working at his police job and on construction at the new karate school. Though he was working twenty hour days for approximately six months, Dometrich Sensei still found time to develop the third basic kata and named it Taikyoku Sandan.
The Yoseikan was moved into its new dojo on August 1, 1971. Within seven weeks Dometrich Sensei, his wife Barbara, and four students (Dennis Dickerson, Cheri Stepaniak, and Sam and Minnie Morris) were on their way to Japan to visit with Doctor Chitose. One of the first things Dometrich Sensei did when he arrived in Japan was demonstrate the three Taikyoku kata to Doctor Chitose and explain the rationale behind them and the nine kyu system he was using in America. Doctor Chitose approved of both the kata and the American nine-kyu system. Dometrich Sensei was promoted to the rank of Shichi-dan and granted the title of Kyoshi prior to leaving Japan.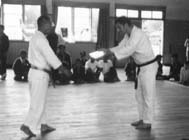 There was trouble, however, within the Japan Chito-kai during this time. O-Sensei was having difficulty with one of his key students, Mamoru Yamamoto. Chitose Sensei requested Dometrich Sensei telephone Yamamoto Sensei to resolve the problem. Dometrich Sensei refused, stating he would travel personally to Yamamoto Sensei's home (80 miles away) to rectify the situation in person. The trip was to no avail and Yamamoto Sensei withdrew from the Japanese Chito-kai Karate Federation. With the loss of Yamamoto Sensei in Japan, the United States Chito-kai lost the many schools under the direction of Sensei Foster who left the U.S. Chito-kai.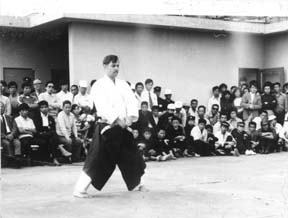 In 1972 Dometrich Sensei started a branch karate dojo at the Cincinnati Athletic Club and turned the operation over to Sensei Joe Schertler. In the first months of 1972 a student of Doctor Chitose's, Yukinori Kugimiya, arrived at the Yoseikan. His parents arrived a short time later and made their home at the dojo. They currently live in the Los Angeles, California area, where they moved to be with their other son. Kugimiya started two karate clubs in the Los Angles area. Dometrich Sensei visited and taught classes there after they were established. Kugimiya Sensei was involved in a serious automobile accident leaving him unable to practice karate. Both schools went out of existence due to the lack of a qualified Chito-ryu teacher.
In the fall of 1972 and spring 1973 Dometrich Sensei started teaching two college karate classes. One course was at Thomas More College and the second at Northern Kentucky University. In May 1973 a National Tournament was held with Doctor Chitose as the honored guest. Accompanying O-Sensei was Sensei Hidemichi Kugizaki as an assistant. The tournament was a huge success. Other guests included Masami Tsuruoka and his wife Kay; Shane Higashi of Canada; Shojiro Sugiyama of the Japan Karate Association of Chicago, and many others.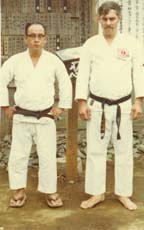 The Yoseikan Hombu building was constantly being renovated. New floors were installed in the spring of 1973 in anticipation of Chitose Sensei's visit. The Japanese gardens had been redesigned and more plants added.
On October 1974 Devorah (Wear) Dometrich entered the U. S. National Championship, she won again. She was to represent the United States at the World Karate Tournament to be held in Los Angles, California during August 1975.
The Yoseikan Hombu received a visit from another of Chitose Sensei's students, Akanori Kuzuhara, in 1979. He stayed for six months. In October Chitose Sensei's son, Yasuhiro Chitose, visited for the first time. A special class was held at Northern Kentucky University. Young Chitose and Kuzuhara were treated by Dometrich Sensei and Okusan to a vacation in the Smoky Mountains and Cherokee, North Carolina prior to their return to Japan.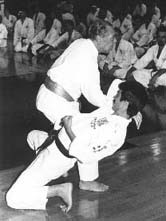 O-Sensei visited North America for the last time in the fall of 1982. It was evident to all that Chitose Sensei was tired and in failing health. The U. S. Hombu purchased a special chair for him to sit in, and sometimes during training he would fall asleep, but the class would keep on training (very quietly, however, so as not disturb him).