U.S. HISTORY (1950 - 1970)
In the early part of 1950 a young boy in Clarksburg, West Virginia had read two magazine articles about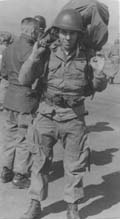 karate. One magazine was the Reader's Digest containing an article about a karate man who had killed a runaway bull on a beach near Tokyo. The man's name was Mas Oyama. Within a very short time another magazine (True, a men's magazine) published an article titled "The Scream and The Eagle's Claw". The scream was the kiai of a karate man and the eagle's claw was the hands of a gung-fu man.

The youngster could only read and wonder at this strange art. This young man was William J. Dometrich.

The Korean War started in June 1950 and a young William Dometrich attempted to join the armed forces. His attempts failed, and his parents came to retrieve him, for he was too young for military service. On March 15, 1951, however, he was old enough and was accepted on March 17th. His first assignment was to the 101st Airborne Division and later to the 11th Airborne Division at Fort Campbell. Once at the 11th Airborne he volunteered for assignment to the 187th Airborne Regimental Combat Team stationed in Korea at the outbreak of the war.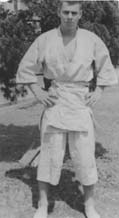 The summer of 1952 saw the occupation of Japan formally come to an end, with the nation of Japan obtaining almost all rights as an independent country. The martial arts became more open (although instruction in them had been going on secretly for some time).

With the Korean War ending on July 28, 1953, the 187th Airborne Regimental Combat Team returned by ship to Sasabo, Japan where it was split into three separate locations on the southern most island of Kyushu (Beppu City in the East, Kumamoto City in the West, and Kokura City in the North).

William Dometrich began his Chito-ryu karate training in Beppu under the watchful eye of Ichiro Shirahama, a student of Doctor Tsuyoshi Chitose. The young soldier had been introduced to karate training from a U. S. Marine who had been stationed in Okinawa. At this time (1952), karate training consumed almost all of his spare time. He passed his brown belt test. He requested and received permission from Ichiro Shirahama to travel and meet Chitose Sensei, and caught the train to Kumamoto Ken. William Dometrich was accepted as a student by Doctor Tsuyoshi Chitose with the blessing of Shirahama Sensei. After what appeared to be a very short time he was promoted to sho-dan. Prior to departing Japan for the U. S., he was promoted to san-dan, bypassing the ni-dan rank. While in Japan Dometrich Sensei became a Zen Buddhist. The exact date is unknown. Dometrich Sensei said that one day while working he realized he was a Zen Buddhist.

Dometrich Sensei returned with his unit to the U. S. in December 1954. The returning troops were quartered at Fort Lewis,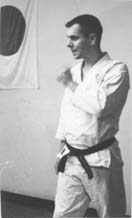 Washington in the Post Gymnasium. Many troops were returning at this time for Christmas, and to be discharged. It was here Dometrich Sensei experienced a stroke of bad luck. AWOL bags were kept by the folding cots and duffel bags were placed against the outer walls to comply with fire regulations. On the second morning several duffel bags had been taken outside and cut open. Among them was Dometrich Sensei's. Taken from his bag were personal items, including a tube with two of his karate certificates. He did, however, retain possession of one which was secured in his AWOL bag. This certificate had been signed by Doctor Chitose (1898-1984), Kanken Toyama (1886-1966), Seiko Higa (1898-1966) and Gichin Funakoshi (1868-1957).

Dometrich Sensei's first attempt at teaching Chito-ryu in the United States occurred less than one month after he returned from Japan. In January 1955 he started a karate class at Fairmont State College, Fairmont, West Virginia. Thirty seven students attended the first class. Within two weeks there were no students. Dometrich Sensei had learned karate, but he had not learned how to teach it.

On June 6, 1955 Dometrich Sensei married Barbara Ellen Webster (Okusan). Unknown to him at that time was the fact that within twelve years she would play an instrumental role in assisting him in the founding of the United States Chito-ryu Karate Federation. On May 2, 1956 a son was born, William J. Dometrich II. Dometrich sensei and Okusan moved from Clarksburg, West Virginia to Cincinnati, Ohio in May 1957.

On March 1, 1961 Dometrich Sensei, Sensei Harvie Eubank (karate) and Sensei Ray Hughes (Judo) started a small dojo and karate club in Cincinnati at 1235 Vine Street. Within nine months the school closed. Dometrich Sensei moved to Northern Kentucky in 1958. He opened another school in Covington, Kentucky at 811 Madison Avenue in 1962. This school moved to 813 Madison Avenue on September 1, 1962.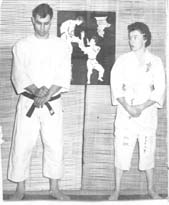 In January 1963 Dometrich Sensei attended a karate tournament in St. Louis, Missouri sponsored by James Wax, Bob Yarnall and Ansei Ushiro of the Matsubayashi Shorin-ryu Karate Federation - Shoshin Nagamine's students. He met a very tall, extremely impressive individual named Mike Foster, who had been a student of Sensei Watanabi and Sensei Mamoru Yamamoto, who was a Chito-ryu Sensei from Northern Kyushu. Sensei Foster had studied karate under Yamamoto when he was in Japan as a member of the U. S. Air Force. Sensei Foster later became the United States karate champion in kumite for the years 1966, 1967, 1968 and 1969. During this time Sensei Foster headed many karate schools which were part of the U. S. Chito-ryu Karate Federation.

The summer of 1963 Dometrich Sensei traveled with three students to Toronto, Canada to meet the father of Canadian karate, Masami Tsuruoka. Barbara Dometrich was unable to travel to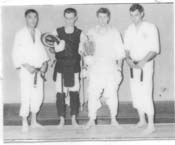 Canada because she was expecting their second child (Sherry Lynn, born November 21, 1963). Dometrich Sensei had heard of Tsuruoka Sensei when he was in Japan, but had never met him. Tsuruoka Sensei became Dometrich Sensei's Sempai and assisted him with his training in Chito-ryu.

A member of the 187th Airborne Regimental Combat Team, Dave Stewart, was living in Cincinnati. He had also practiced Chito-ryu while in Japan and had started a karate school on Reading Road in Avondale. This school became a branch dojo of the Covington school. At that time Sensei Martin King was the head instructor. The organization branch continues today at a new location as the Yoseikan Dojo II on Reading Road. The current head instructor is USCKF Chairman Shihan Lawrence C.Hawkins, Jr, esq.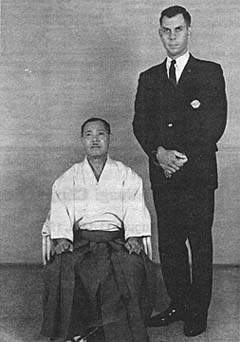 The first national karate championship tournament was held in Washington D. C. during March 1964. The Covington school only had lower ranks available to participate. Tom Schonecker (4th Kyu) won his division of the tournament. U. S. Chito-ryu had it's first national champion.

The school returned to the third national championship in Washington D.C in 1966. This was the first year women were allowed to compete. One of the Covington Dojo women won first place in kata and first place in kumite. She was the FIRST United States Women's Champion in United States karate history. Her name was Devorah Wear.

During September and October 1967 Chitose Sensei (O-Sensei) traveled to Canada and the United States with Mike Foster's teacher, Mamoru Yamamoto. This was the first meeting between Doctor Chitose and his student Dometrich Sensei in thirteen years.

When O-Sensei visited the school in Covington, Kentucky he requested that Dometrich Sensei organize a United States Chito-ryu Karate Federation and act as the Chairman and Chief Instructor. The old U.S. Chito-ryu Hombu Dojo (located in Hawaii) under the leadership of Sensei T. Morita had failed in establishing a national organization. Doctor Chitose requested Dometrich Sensei create a strong Hombu Dojo for Chito-ryu in the United States and develop a good organization. The United States Chito-ryu Karate Federation was born.

Kazanori Kawakita (Mamoru Yamamoto's student) visited the U. S. Hombu in Covington, Kentucky (now named "Yoseikan" upon Dometrich Sensei's request) for the entire year of 1969. The year 1969 ended with the return of Kawakita Sensei to Japan.