This page will serve as a repository of most recent information and pictures. Most of what is contained here eventually will be incorporated into future U.S. Chito-kai history pages.
---
SHOCHUGEIKO 2022
by Don Schmidt, Renshi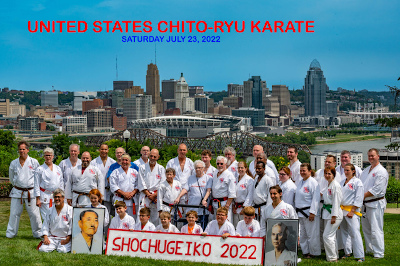 Shochugeiko 2022 took place at a different venue. We normally trained at Big Bone State Park which is located in a valley. This year we trained at Devou Park located high on a hill with splendid views of the cities below. Kyoshi Sherry Schmidt designed the commemorative shirt based on the panoramic, scenic view. One could say that we got closer to the sun for this extreme training clinic!
This year's weather forecast for Saturday, July 23, was no different than last year's prediction. Predicted were 97 degrees with humitures over 100 degrees. Of course, high heat predictions are always accompanied with warnings like stay in-doors, do not go out unless absolutely necessary, drink lots of fluids, keep an eye on the elderly, et al. These warnings and conditions certainly make USCK Shochugeiko participants aware that we are going to do for 4-5 hours what everyone is saying not to do. On Friday I drank more water than normal which awoke me 5 times during the night and made me ponder about all my hydration going down the drain.
Some decided that it is too hot for them to participate. It is meant to be extreme training to help participants overcome difficult situations; like getting jumped on the street. During, set up time at about 9, the sun was out, heat and humidity were rising and it was feeling like the training time was going to be rough. When training began, clouds began drifting in while Shihan Bill Jansak led the warm-up session. Shihan Jansak is a guru on stretching and focused our stretching on the muscle groups we were about to utilize the most. Sweat was already soaking into the gi.

Renshi Lawrence Hawkins III taught the second hour leading us through basics. He also introduced a drill based on San Ju Waza that involved moving in multiple directions, in different stances, rather than being stationary during the thirty techniques. The drill initially followed the embusen of our Taikyoku kata. Although we were not baking in the sun, the gi were getting wetter. The clouds began to get gray and a stronger breeze picked up which was a welcomed relief to those in gi and others not in gi who scurried to secure tent canopies. The breeze was really a wind gust and we were high on a hill. Shihan Shawna Lingo helped with the youth during this session.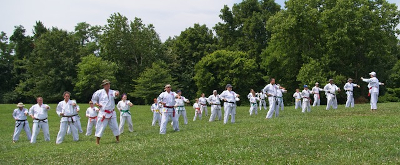 Kyoshi Sherry Schmidt led our third session. By now it was storming across the Ohio River, but far enough away that lightening never posed an issue. It never rained on us either, but the wind kept blowing in the cooler air related to the storm occurring north of us. Kyoshi Schmidt led us through the Taikyoku kata as all ranks trained hard. Shihan Eric Ford took several beginner youth aside to help them with their kata when Kyoshi Schmidt advanced to kata they did not know. Kyoshi Schmidt continued to emphasize the importance of basic technique and by now gi were thoroughly drenched. At one point she mentioned that her wrist gadget indicated the temperature was 82 degrees. Obviously, not near as hot as all the expert forecasters on weather had predicted. From our vantage point we could see clearing occurring and the wind was subsiding. By the time her session was over the sun was out and the temperature was rising. She never repeated the temperature.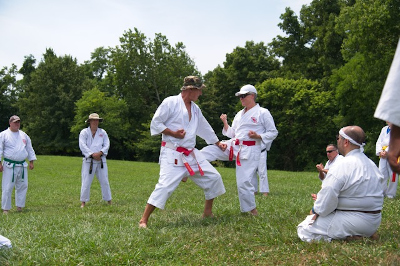 We made it to the last hour of training which I was assigned to teach a two person, kumite drill called Taikyoku Kumite Waza. As the name suggests, it is a partner drill derived from our Taikyoku kata. Since most were being introduced to this drill for the first time, the pace of training was a welcomed relief. This drill involves back and forth attacks, blocks, counters, culminating in victory for the initial defender. The principles of sen no sen, go no sen, distancing, are present in this drill.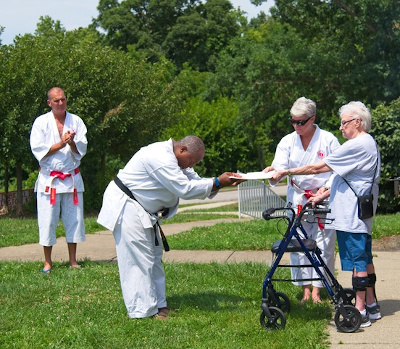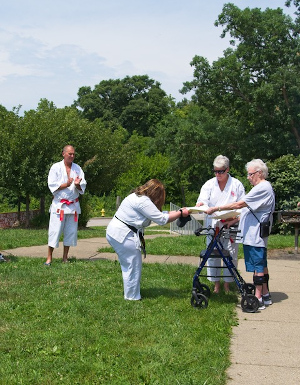 At the conclusion of the clinic Meiyo Hanshi Barbara Dometrich, who is the Midwest Coordinator for the Dai Nippon Butoku Kai International Division, formally presented DNBK rank certification diploma to two visiting Shotokan practitioners from Louisville, Kentucky-Allan George Jr, Roku dan and Erin Grogan, San dan. DNBK protocol requires that these certificates be presented in person, in formal ceremonial fashion, directly to recipients of these prestigious DNBK certificates that contain the official crest/seal of the Dai Nippon Butoku Kai. They are officially signed: Sosai, (Governor of DNBK) Higashifushimi, Jiko (Sosai Seal); President, Board of Directors of DNBK, Hamada, Tesshin (President Seal). Thunderous applause erupted congratulating these individuals for their endeavor in budo.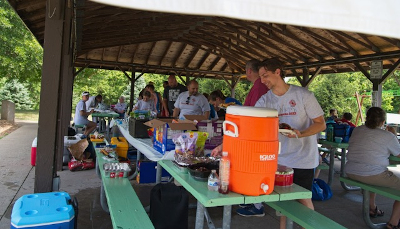 We had a cook out and picnic directly following the clinic and presentations. Collectively, we socialized, cooled off, and enjoyed the comradery the event creates realizing that we survived the extreme training that was not as bad as everyone was concerned about. The setting was a perfect choice by Meiyo Hanshi Dometrich and I am looking forward to returning to the hill in Devou Park.
---
HANSHI IS A LEGEND!!!
by Don Schmidt, Renshi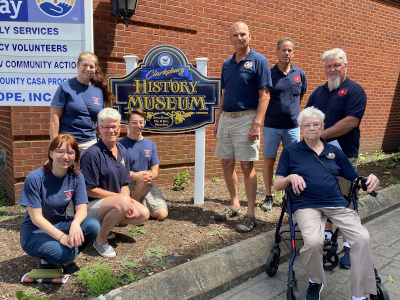 Perhaps around 2005, Hanshi and Okusan were in a local bank. A customer saw Hanshi and exclaimed "I know you. You're a legend!" Hanshi was taken back by the comment because this was the first someone referred to him as a legend in public and he did not recognize the customer. When Hanshi reiterated the story to me, he was all laughs over the comment because he never thought of himself as a legend.
Well, thanks to Shihan Michael Messinger who knew someone in Clarksburg, West Virginia who was operating a museum in downtown Clarksburg, William J. Dometrich will be enshrined and, therefore, certainly fits the definition of a legend. The curator was looking to enshrine Clarksburg natives of interest in the museum so Sensei Messinger mentioned Hanshi and contacted Kyoshi Sherry Schmidt who in turn contacted the curator. Several phone calls later Kyoshi Schmidt was developing a timeline, gathering pictures, artifacts and whatever to present to the curator on the weekend of June 17, 2022. Keep in mind that Okusan just recently moved so most of her memorabilia were in crates somewhere in her home and two storage units filled with boxes and crates.
As June 17, approached Kyoshi Schmidt was filling a plastic bin with what the curator indicated he was looking to display. On a whim, I asked Okusan, if the curator is looking for Clarksburg natives who made a name for themselves, what about you? Of course she shrugged and said he is interested in Hanshi.
On June 17, Okusan, Kyoshi Schmidt, myself, hombu student Pat O'Brien, Shihan Shawna Lingo and two of her students Sarah and Austin headed to Clarksburg. I traveled with Kyoshi Schmidt and Okusan in a Prius. That's right. We did not take all of Hanshi's accolades and "stuff" he accumulated during his lengthy martial arts history. We took what Kyoshi Schmidt believed the curator wanted to start a display. She had no idea what size the display was or the museum for that matter.
On Friday afternoon our group met the curator. Shihan Kevin Drummond, Bridgeport Dojo Head, joined us in the museum. Kyoshi Schmidt and I discussed in detail with the curator what he wanted. It did not take too long to realize that we had too much "stuff" in one little bin that fit in a Prius and would fit in with the theme of the museum. The curator learned about Okusan and her native roots and next thing we knew we had two inductees into the museum. AWESOME!!!! Hanshi had to be grinning from ear to ear, supernaturally speaking, knowing that he and his wife are going to be enshrined in a museum of legends in their home town Clarksburg, West Virginia. This is so appropriate because we know that they are the cofounders of the United States Chito Kai or the karate organization that is probably the most successful in the United States.
We left the museum with a better picture of what we needed to do to incorporate martial arts legends William J. Dometrich and Barbara Ellen Webster Dometrich in their hometown museum. We also left the museum with an appetite.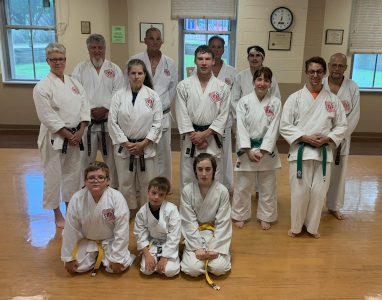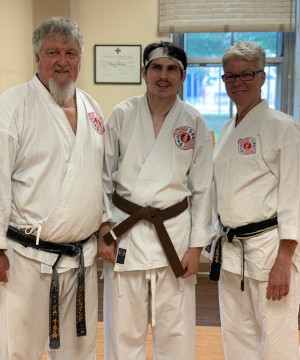 But first, we had to train at Shihan Drummond's dojo. In conjunction with this training, Kyoshi Schmidt and Shihan Drummond concocted a test format for one of his students testing for ik kyu. To make ik kyu, students are required to test in front of the National Test Board in October at the hombu, but there are exceptions to this policy. The candidate was Scotty Quinones who would not be able to travel to the hombu to test because of a medical affliction. He has trained with Shihan Drummond for 21 years and is one of his most dedicated students. Kyoshi Schmidt ran the drills and some of higher ranks training alongside him that night were asked to evaluate his performance. He was awesome and earned the rank of ik kyu.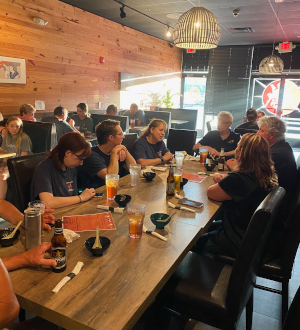 That evening Cindy Drummond met up with us and our entire group went to a Japanese restaurant. On Saturday Shihan Lingo took her students to Audra State Park to show them the significance of that beautiful campground while we gave Pat O'Brien a tour of the legends' childhood homes, schools and other eateries in Clarksburg.
Presently, the museum display is a work in progress. You will be informed when the display is open for review. In coordination with the museum and its first Friday celebrations, the USCK will be involved in a karate demonstration on August 5. Any and all are welcomed to participate.
---
Observations from the Outside
by Almonte Covington, Head Instructor, Kentuckiana Shotokan Karate Do; DNBK Member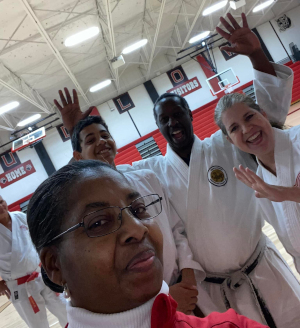 The weekend of March 19, 2022 found us gathered together to remember Hanshi William Dometrich. It was the 10th anniversary of his passing. The Yoseikan Chito Ryu group held their spring seminar/workout/memorial right on schedule; just as Hanshi would have wanted.
As an "outsider", the gathering was very nice to observe. I describe myself as an outsider as I am not a "member" of Yoseikan Chito Ryu. This did not matter to the folks gathered. True, they have held this gathering for quite a long time and I have been "visiting" for some 20 plus years. However, they have always welcomed me and anyone who attended. The spirit of Martial Arts is so inspiring, thus the reason to attend year after year. The consistency of being welcomed just plain feels good.
The Chito Ryu group worked on Chito Ryu techniques. It was great! The Basics, Kihon Waza, are the Basics. Correct the stance. Perform proper rotation and path for blocking. Have correct kime when striking. "Outsiders" have the opportunity to learn. The skillful instructors take the time to break the techniques down so they are easy to pick up, allowing everyone to fully participate. Watching the Black Belts work was great!! They were very serious and focused. The energy generated motivates one to keep going. They don't say "be like me". They set the example for you to WANT to be like them; to work like them; to display Martial Spirit like them.
There is so much to learn. Hanshi Dometrich has left a great legacy in the people presenting the Art. Thank you for the time. This "outsider" of 20 plus years will be going back for more.
---
2021 SHOCHUGEIKO
by Don Schmidt, Renshi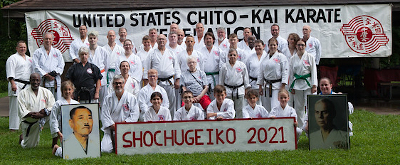 How appropriate the 2021 Shochugeiko commemorative shirt as designed by Kyoshi Sherry Kembre illustrates what most of us have experienced since our last Shochugeiko training in July 2019. The comradery of training together was truly missed during the COVID shutdown saga. I, Renshi Don Schmidt, am looking forward to our group training again in October. The first day I wore the commemorative shirt I was complimented on the design, but the person asked "What is the third choice"?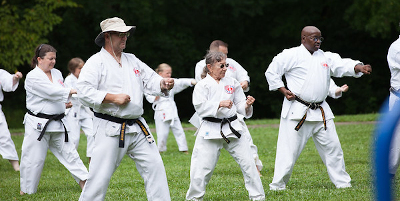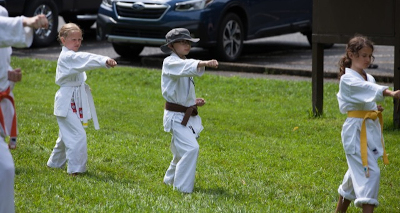 Shochugeiko this year occurred under the threat of severe weather. But we donned our gi and showed up at Big Bone State Park and began training under cloudy conditions. Kyoshi Kembre led the first hour and as soon as we got hot, a light shower occurred. Well, maybe a heavy shower, but no lightning. Peeks of sun steamed up our training area on occasion, but then another shower moved through. AWESOME! The field was soaked like a sponge and as we did kicking drills in sunshine, water sprayed from feet in every direction. Personally, I was looking forward to turning around to give some pay back with my size 13 wet feet. The more hip or snap in maigeri keage, one could spew water two rows forward. I also learned that training on a sponge field cleansed my feet so I did not have to spend two days getting dirt off the bottoms of my feet.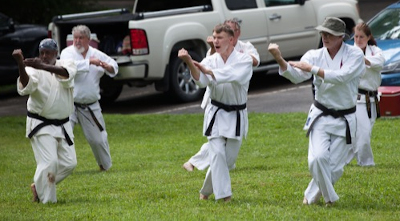 The second hour involved Sensei Bill DiGrezio leading black belts through kata while Kyoshi Kembre led the kyu ranks through kata. Same weather conditions prevailed, but our spirit overcame.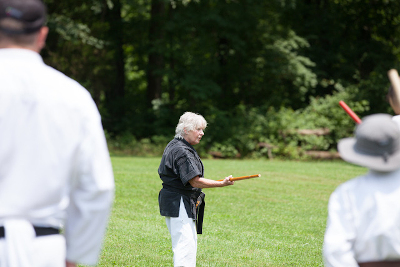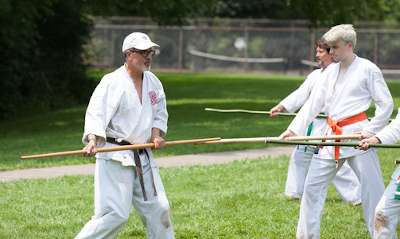 The last two hours of the clinic involved kobudo and since we were in a field we trained with bo. Hanshi Devorah Herbst, Founder/President of RyuKyu Kobudo Hozon Shinkokai, Beikoku So Honbu, taught advanced ranks bo kihon and Shuji no Kon Sho. Renshi Eric Ford taught beginner and intermediate ranks bo kihon and Sakagawa no Kon Sho. I taught beginner children bo kihon and introduced them to Taikyoku no Kon Sho. The last hour of the clinic was in full sunshine and the children could not be contained any longer as they loaded up with water balloons and devised a plan of attack on the intermediate kyu ranks. They left the advanced ranks alone.
Pandemic conditions were yielded to so we did not have our pot luck banquet after the training. Additionally, the training focused on social distancing. Participants, if they chose, brought their own picnic lunch which added to the comradery of being together again. After the clinic all participants in the field turned to Meiyo Hanshi Barbara Dometrich in the shelter and gave her banzai cheer in recognition of her accomplishments.
---
Older entries can be found in the U.S. Chito-kai history pages.